What Are the Best Small Farm Insurance Companies in Tennessee?
July 30, 2021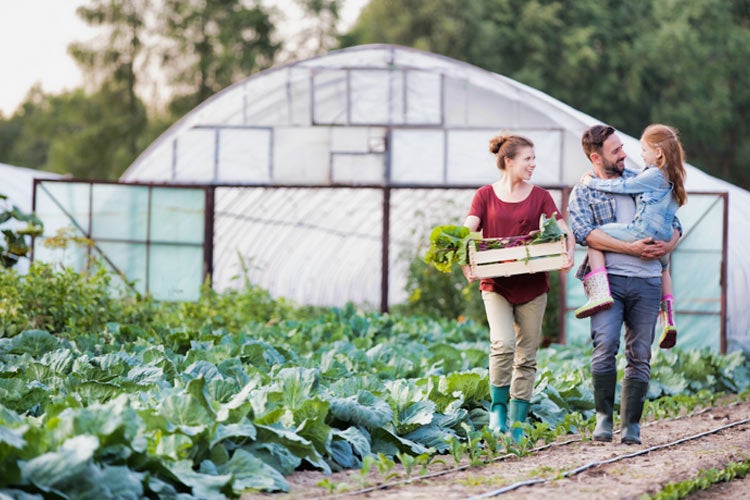 When you're running a business, it can be a roller coaster of time and energy. To navigate each twist and turn, you'll need the right protection for your assets. Tennessee business insurance can help cover your small farm against all the what-ifs.
Fortunately, a Tennessee independent insurance agent has access to a network of carriers that can help you get a policy for an affordable price. A trusted adviser will do the shopping for free and review your policies for accuracy. Connect with a local expert for custom quotes to get started.
Best Small Farm Insurance Companies in Tennessee
The best farm insurance in Tennessee is relative to your farm and the type of products it produces. There are numerous small farm insurance companies that span the state and nation, and knowing what's right for your operation can be challenging. First, knowing what's out there can help.
Leading property and casualty insurance companies in the US:
Nationwide Insurance
Farmers Insurance Exchange
Auto-Owners Insurance
Erie Insurance
Sentry Insurance Group
What Are the Best Small Farm Insurance Companies near Me?
How your farm operates and what it has to offer will determine the carrier that will provide coverage. While it's difficult to know the best insurance companies because every farm is different, you can see the leading carriers in the US.
Largest multiple peril crop insurance companies in the US, by direct premiums written (in million US dollars)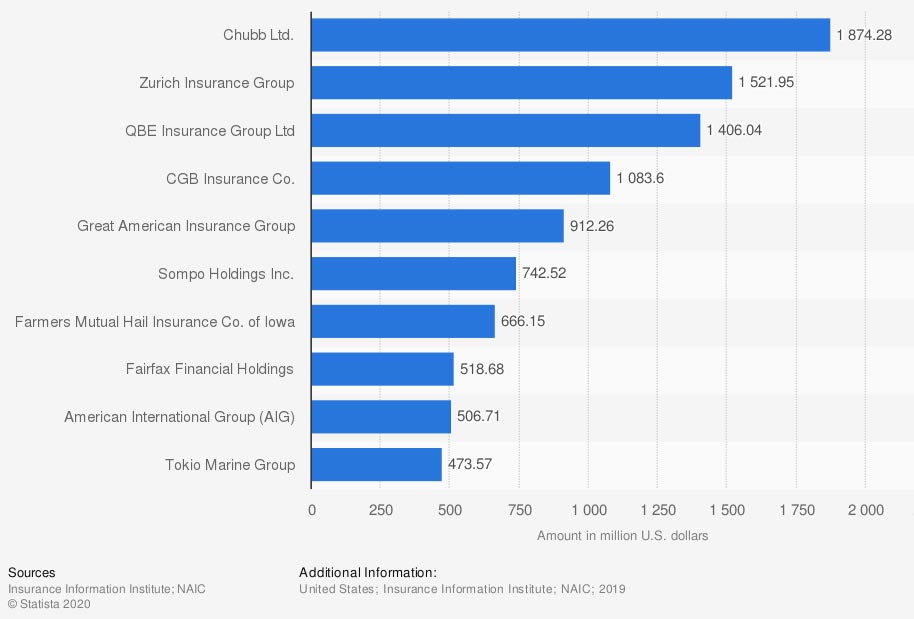 If you have crops, then these carrier options are the most popular among other small farmers. To understand what your farm needs specifically, consult with a professional.
What Do the Best Small Farm Insurance Companies Offer in Tennessee?
There are primary small farm insurance policies that every farmer will need. These foundational policies can be formatted to fit your individual exposures and operation. Check out standard coverages to consider for your small farm:
Liability: A general liability policy will provide bodily injury and property damage coverage.
Commercial property: This policy covers your farm structures and pole barns, and can even insure your equipment.
Accidents: This can be anything from coverage for electrocution, fire or smoke, to loading and unloading of livestock.
Natural disasters: Volcanic eruptions and sinkholes are covered. Typically floods and earthquakes are covered under separate policies.
Weather events: Lightning, wind, hail, tornadoes, and more.
Crimes and civil unrest: This is for theft and vandalism of livestock.
Crops: There are a couple of different crop policies you can obtain. All will cover various types of damage to your crops and pay replacement cost if necessary.
How Much Does Small Farm Insurance Cost in Tennessee?
In Tennessee, small farm insurance can be affordable, and only determined when you obtain quotes from a company. Each farm is rated off of its individual risk factors and operations. Take a look at how carriers calculate your farm insurance premiums:
Prior losses
Value of farm equipment and property
Value of crops
Your age and experience
If you own livestock and the value
Local crime rate
When Is the Best Time to Buy Small Farm Insurance in Tennessee?
Small farm insurance is especially necessary the minute you become the owner of a property. Since the majority of small farms are operating on a tight budget with limited cash flow, accurate protection is needed immediately to avoid bankruptcy. To get started, your adviser will need some of the following information:
Your herd's specifics: You'll need to cover the risks that are specific to your herd. Horses will have different needs from cattle and so on.
What your livestock is worth: This is the value you can get in the marketplace for your livestock. You are covering the risk of the replacement cost if something happened to them.
If you have crops: If your farm deals with planting and producing crops, you'll need separate crop insurance.
Other structures and buildings: If you have a home, pole barns, and more on your property, you'll need coverage for the buildings themselves.
What preemptive protection you have in place: Carriers will want to know how you are proactive, such as if you are accounting for the risk of predators by having fencing and more.
Small Farm Insurance Statistics
Farms big and small are in Tennessee and every state for that matter. Whether you have just a few dozen acres, or a few thousand, you'll need policies that last. Check out some interesting farm facts:
Value of private crop-hail insurance in Tennessee: $58,500,000
Crop-hail loss ratio in Tennessee: 114.00%
Number of organic farms in the US: 14,367
Volume of insured farmland in the US by acres: 140,210 pasture, range, and forage
Total value of farm real estate in the US (in million US dollars)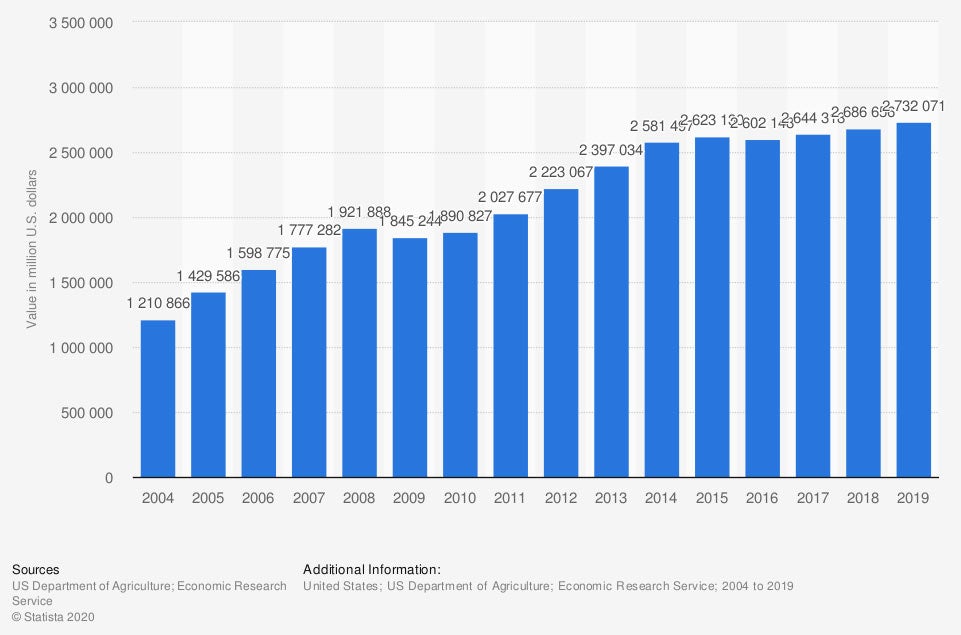 Farmland is everywhere in the United States. In Tennessee, the rolling hills are full of different types of farms, each needing specific coverages for proper protection.
How a Tennessee Independent Insurance Agent Can Help You
When it comes to insuring your farm, there are several items you'll have to take into account. While you can't know what's around every corner, you can prepare for it. Tennessee farm insurance will be a substantial expense that comes with the cost of doing business.
Fortunately, a Tennessee independent insurance agent has access to a network of markets so they can find affordable rates and coverage that's suitable. They'll compare apples to apples for policies, ensuring that there are no gaps in protection. Connect with a local expert on trustedchoice.com for tailored quotes in minutes.
https://www.statista.com/statistics/689397/largest-mpci-companies-usa-by-direct-premiums/
https://www.statista.com/statistics/196392/total-value-of-farmland-and-buildings-in-the-us-since-2004/
https://www.statista.com/statistics/185365/revenue-of-leading-mutual-property-casualty-insurance-companies/
http://www.city-data.com/city/Tennessee.html
©

2022

, Consumer Agent Portal, LLC. All rights reserved.