In Tennessee, Who's Responsible If a Neighbor's Tree Destroys My Car?
January 15, 2022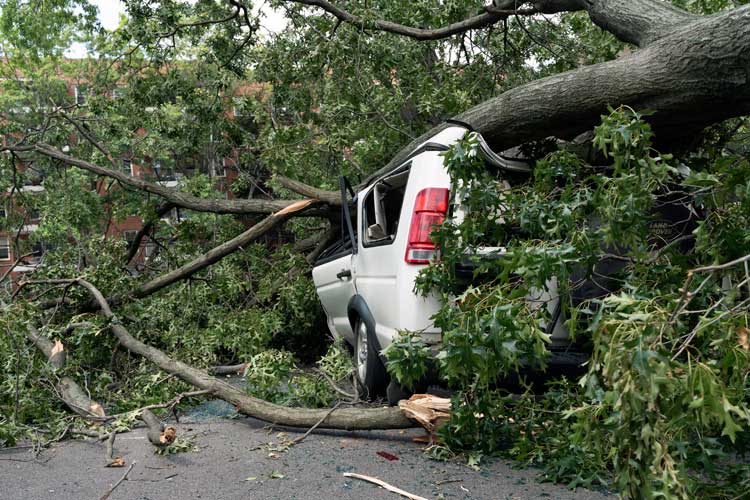 To keep things peaceful in your home, it can help to be on as good of terms with your neighbors as possible. But what happens if a neighbor's tree falls and destroys your car, ultimately ruining your peace? Who's responsible and who pays for the damage?
Luckily a Tennessee independent insurance agent can help you prepare for this disaster and many others with the right car insurance. You'll get the protection you deserve long before the tree ever falls. But to get started, here's a deep dive into this specific scenario and who's responsible.
In Tennessee, Who's Responsible If a Neighbor's Tree Falls and Destroys My Car?
Well, it really depends on why the tree fell in the first place. Insurance companies in Tennessee do consider if a tree fell due to natural causes, otherwise known as "acts of God," including lightning strikes, strong winds, or natural aging. However, there are plenty of circumstances where your neighbor would be technically responsible.
Unfortunately it can be difficult to prove to an insurance company that it was actually your neighbor's fault their tree fell, even if you knew they'd been neglecting to trim a dead plant for years. That's why you'll probably have to go through your own car insurance policy to cover the damage. A Tennessee independent insurance agent can help you get covered.
What If the Neighbor Was Trimming the Tree When It Fell on My Car?
If your neighbor was actually trimming their tree when it fell and landed on your car, it could certainly point the blame squarely at them. Still, your own car insurance would cover the damage, as long as you had the proper forms of coverage. It's possible you'd need comprehensive, or other than collision, car insurance to protect your vehicle against falling objects and related perils.
Will My Tennessee Car Insurance Fully Cover the Damage to My Car?
It's the safest bet to have comprehensive coverage for your vehicle to ensure that it's covered against fallen trees and many other disasters. However, the property damage coverage provided by your car insurance might also cover this incident, said insurance expert Paul Martin. But comprehensive coverage is an important one to consider, since it covers falling objects as well as:
Windshield breakage
Theft, riot, and vandalism
Flood damage
Collisions with large animals
Fire damage
After you've paid your policy's deductible, either the comprehensive or the property damage section of your car insurance should cover the rest of your vehicle's damage up to your policy's limit. Make sure to work with a Tennessee independent insurance agent to get a policy that gives you the deductible and coverage limits you want.
What Else Does Car Insurance Cover in Tennessee?
Though only liability coverage is mandatory in Tennessee, a policy that provides a fuller picture of protection would include:
Uninsured motorist coverage: Covers you in case you get into an accident with someone who doesn't carry any car insurance or adequate coverage of their own to pay for the damage.
Collision coverage: Covers you against repair costs if you get into an accident and damage your vehicle.
Personal injury protection: Covers you against medical treatment costs if you cause an accident and you or your passengers get injured.
Of course, you'd also want to be equipped with comprehensive coverage to protect your car from falling trees from your neighbors and other huge disasters. A Tennessee independent insurance agent can help you build your policy.
What If My Car Doesn't Have Comprehensive Coverage, Can My Home Insurance Cover It?
Tennessee only requires you by law to have property damage liability coverage and bodily injury liability coverage, in case you cause injury or property damage to a third party with your vehicle. So if you didn't have the right type of car insurance to protect your vehicle against a fallen tree, you might ask if your Tennessee home insurance could cover the incident. Sadly, probably not.
Standard home insurance policies actually provide coverage for vehicles crashing into your home, but they don't typically cover damage to your car. In fact, damage to your vehicle is usually excluded by home insurance, though you may be covered for theft of some personal property that you keep in it. But to protect your vehicle from all kinds of damage, it's important to have a car insurance policy.
What Doesn't Car Insurance Cover in Tennessee?
Your Tennessee car insurance policy provides a ton of critical protection, but it still excludes the following:
Ridesharing vehicles: Drivers who use their vehicles for ridesharing purposes (e.g., Uber or Lyft) need special ridesharing insurance, since personal auto insurance excludes coverage for disasters that happen while offering this service.
Maintenance costs: Your routine maintenance like oil changes and car washes won't be covered by your car insurance.
Personal belongings: Though car insurance doesn't often cover theft of or damage to personal belongings you store in your vehicle, your Tennessee renters insurance or home insurance very well could.
Business use: You'll need Tennessee commercial auto insurance to protect any vehicle you use for business purposes, since a personal auto policy won't cover it.
A Tennessee independent insurance agent can help you get the protection you need if you're lacking in any area with a standard auto insurance policy.
Why Choose a Tennessee Independent Insurance Agent?
It's simple. Tennessee independent insurance agents simplify the process by shopping and comparing insurance quotes for you. Not only that, but they'll also cut the jargon and clarify the fine print so you know exactly what you're getting.
Tennessee independent insurance agents also have access to multiple insurance companies, ultimately finding you the best car insurance coverage, accessibility, and competitive pricing while working for you.
iii.org/article/what-is-covered-by-collision-and-comprehensive-auto-insurance
tn.gov/revenue/title-and-registration/drive-insured-tennessee/for-drivers/why-you-should-have-auto-insurance.html
©

2022

, Consumer Agent Portal, LLC. All rights reserved.