Q&A - Does Tennessee Home Insurance Cover Tree Removal after a Storm?
April 25, 2021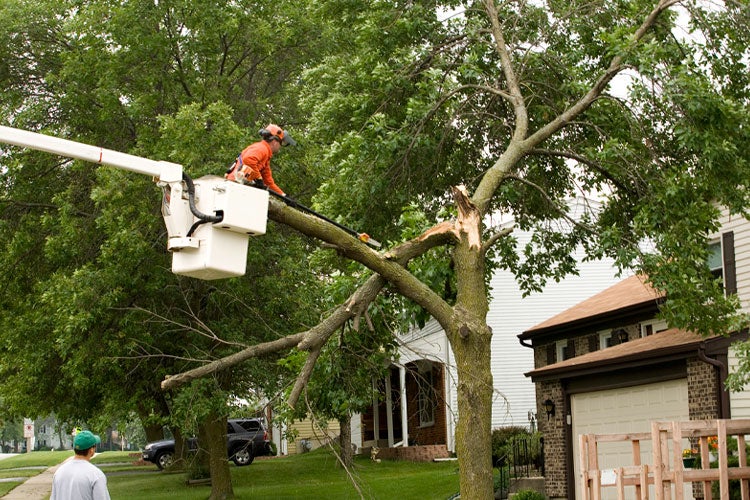 What Is Storm Insurance?
Your primary policies in Tennessee will have standard named perils coverage that protects against most natural disasters. Your homeowners insurance policy will come standard with coverage for storm damage. Take a peek at what that could mean for a loss.
Storm insurance: Coverage for a natural disaster resulting in property damage or bodily injury that will cover you under your primary insurance up to the policy limit.
Estimated Losses Due to Natural Disasters in the US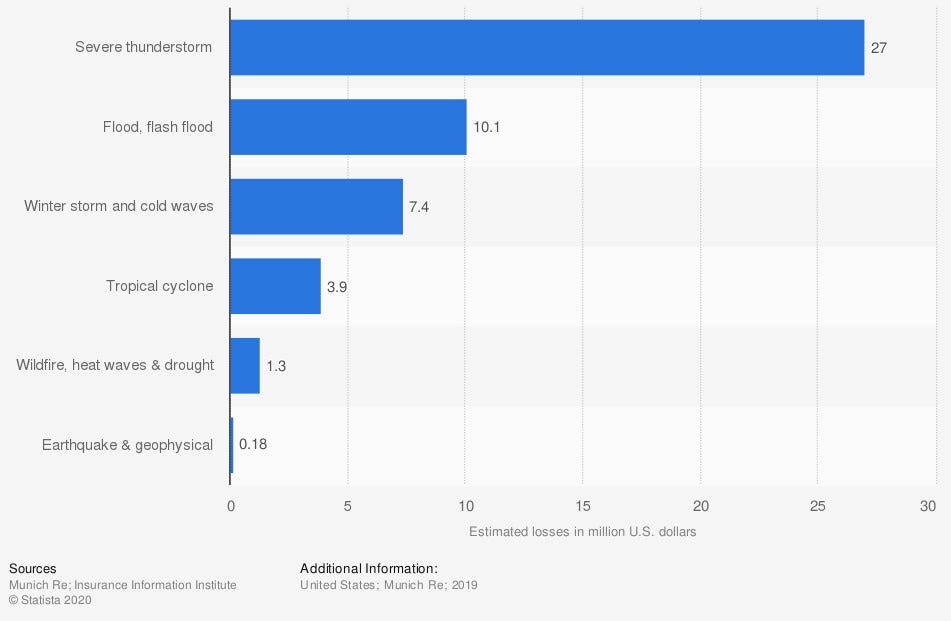 Every state will come with its own severe weather related risks. Your homeowners insurance should come with protection against every common natural disaster in the area.
What Does Storm Insurance Cover in Tennessee?
No matter where you live, storm insurance should be included on all your primary policies. Your Tennessee home insurance will come with automatic coverage for the following named perils.
Natural disasters
Thefts
Vandalism
Tornadoes
The top five reported homeowners claims in Tennessee are as follows.
Severe storms and lightning damage
Flooding and water damage
Burglary and other property crimes
Wildfires and residential fires
What Does Storm Insurance Not Cover in Tennessee?
Your primary home policy will come with storm insurance coverage. However, exclusions apply to every insurance policy out there. Your home will not have coverage included for the following exposures.
Flooding: A separate flood insurance policy is required for flood damage.
Intentional acts: If you intentionally cause a loss, then this would be excluded from coverage.
Prevention: Once storm damage occurs, you must prevent further damage by covering it with protective measures or your claim could be denied.
Number of Fatalities Due to Storms in the US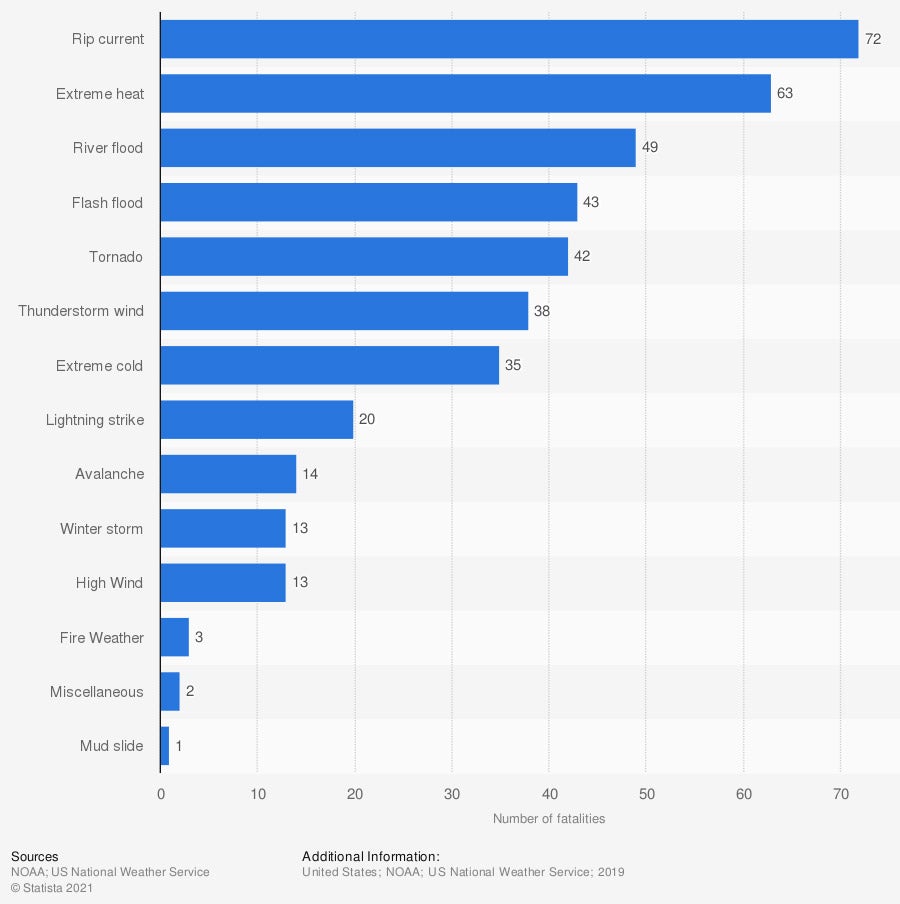 You'll want the right protection for all types of losses in Tennessee. To ensure that your home is properly covered, consult with a professional.
Does Home Insurance Cover Tree Removal after a Storm in Tennessee?
Most homeowners policies will not cover tree removal on your property. There are some exceptions to this rule that can apply in the event of a storm claim. If the tree has landed on a structure, then your policy will respond and pay for the removal minus your deductible.
When the tree lands on a vehicle, your auto insurance will typically pay for the damage. Some carriers may include coverage for tree removal resulting from a storm loss. With others, this may be a gray area. Check with your trusted adviser for specifics on your policy.
Does Home Insurance Cover Roof Damage after a Storm in Tennessee?
The short answer is yes, your primary homeowners policy will cover any damage to your roof resulting from a storm. There can be some exclusions depending on your roof. If you have a roof that is over a certain age, you could be denied replacement because of wear and tear.
Another item to note is that if you do have a roof that is older than 15 years, most insurance companies don't offer full replacement cost. You may get a check for the actual cash value of the roof at the time of loss instead of for the full amount.
How to File a Claim for Storm Damage in Tennessee
If you have to file a storm damage claim on your home policy, it can be hard to remember what to do. When a loss occurs, you may be in a state of shock. To help, follow these easy four steps when filing a claim in Tennessee.
Step 1: Get to a safe place
Step 2: Call your independent insurance agent immediately
Step 3: Obtain temporary housing if necessary
Step 4: Set up a meeting with your assigned adjuster to go over the damage
How a Tennessee Independent Insurance Agent Can Help You
Tennessee homeowners insurance can come with several varieties of coverage. When a storm hits, you'll want to be fully prepared for a loss. The right policy can mean the difference between you or your carrier paying out of pocket for a claim.
Fortunately, a Tennessee independent insurance agent can help with coverage and premium options. They work with multiple markets so that you get affordable protection. Connect with a local expert on TrustedChoice.com to get custom quotes today.
Graphic #1: https://www.statista.com/statistics/216836/estimated-overall-losses-due-to-natural-disasters-in-the-united-states/
Graphic #2: https://www.statista.com/statistics/203766/fatalities-caused-by-weather-conditions-and-storms-in-the-us/
http://www.city-data.com/city/Tennessee.html
©

2022

, Consumer Agent Portal, LLC. All rights reserved.