How to Prevent Identity Theft in Tennessee
June 4, 2021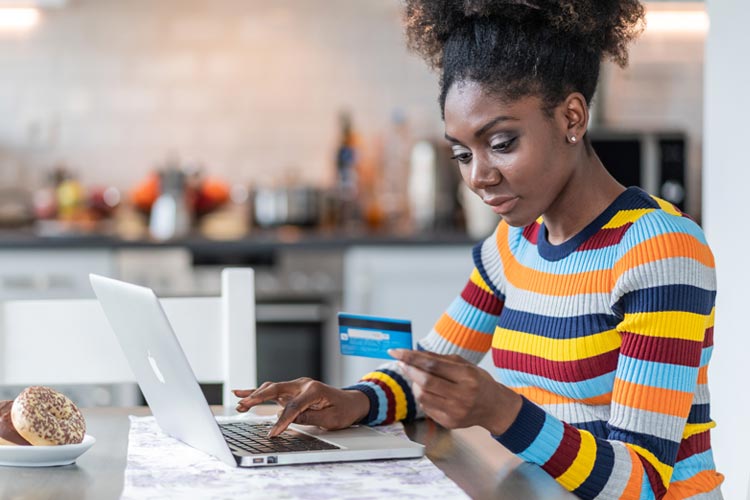 Technology has largely made life easier in the modern world, but unfortunately it's also allowed easier access to much of our most sensitive information. Crimes like identity theft can be traumatic and financially ruinous if not spotted early enough. Luckily there are plenty of warning signs and ways to prevent identity theft from ever happening in the first place.
But in the event that worst case scenario does happen, fortunately there's also insurance coverage that can help repair the damages. A Tennessee independent insurance agent can get you equipped with the right cyber liability insurance policy, as well as a reliable business insurance policy, to protect against identity theft. But first, check out this guide to spotting and preventing this terrible crime.
What Is Identity Theft?
Identity theft is the act of stealing another person's information to make transactions or purchases, forge a tax return, or open new accounts like credit cards. Criminals may use a victim's Social Security number (SSN) or other sensitive personal information to commit their acts. If identity theft is not quickly discovered and reversed, a victim's entire life can be destroyed in the aftermath. Acting fast upon the first signs of identity theft is crucial.
Steps to Preventing Identity Theft
Identity theft can be devastating, but fortunately with a bit of preparation on your part, you don't have to be a victim. There are tons of proactive steps you can start taking today to protect yourself and increase your peace of mind.
Take the following steps today to start protecting yourself against identity theft:
Never carry your Social Security card on you unless absolutely necessary.
Never share personal information such as your SSN, date of birth, or bank accounts.
Stay on top of your credit card statements and bills, and ensure you receive and read all of them in a timely manner.
Always use secure passwords for logins. If you're ever informed of a data breach on a site you've used, changed your password immediately.
Run a free credit report on yourself at least once annually. Be on the lookout for any accounts you didn't open yourself.
Keep your personal documents such as your Social Security card in a secure location in your home, like a safe.
Make sure to bring in your mail every day, and arrange to have your mail held if you take a long trip.
If you move, be sure to update your address through the postal service immediately.
If using public wi-fi, make sure to use a virtual private network if making any sort of transaction or entering personal information.
Keep your computer updated at all times. Update your firewall settings regularly.
Never recycle documents like credit card applications or account statements. Always shred them.
The more proactive you are about preventing identity theft in the first place, the better chance you'll have at maintaining a legitimate sense of security. You may save yourself from possible major head and heartaches, as well.
Signs of Identity Theft
Sometimes even the most vigorous efforts towards protecting your sensitive information are eventually foiled. Always be mindful of the ways in which your personal information is used and shared, and monitor your accounts routinely. If anything appears suspicious, don't hesitate to investigate further.
Take the following signs of identity theft seriously:
Refused or bounced checks
Missing bills or other mail that you regularly receive
Mysterious withdrawals from your bank account
Calls from debt collectors that don't make sense
Bills for services you didn't request or order
Rejected claims from your insurance company when you know you haven't reached your limit
Data breach notices from businesses where you have an account or have made purchases
Notifications from your utility providers that your service has been terminated for non-payment
Mysterious income reported on a tax return in your name
Notifications from the IRS that multiple tax returns were submitted under your name
Denials for new credit cards or loans that don't make sense to you
Unexpected credit score decreases
Refusal of a job offer after the employer runs a credit check
Though identity theft is an insensitive and highly destructive crime, fortunately there are several warning signs that can trigger your attention to it. If you notice any of the above signs or anything similar and discover your identity was indeed stolen, immediately start taking the action steps outlined in the next section.
What to Do if You've Been a Victim of Identity Theft
Sometimes even the most vigorous efforts towards keeping yourself safe from identity theft are eventually foiled. In such a case, don't hesitate to take action. If you believe you've been a victim of identity theft in Tennessee, take the following action steps ASAP:
Report the crime: As soon as you notice evidence of identity theft, contact the Federal Trade Commission via 877-438-4338 or through identitytheft.gov. Be ready to provide a detailed report of the crime.
Contact your credit card company: If you believe your credit card number has been stolen, don't hesitate to contact the company immediately. Have personal identification documents and bank records handy to be prepared to verify your identity. Most companies protect you against fraudulent charges once you report the crime.
Request a fraud alert on your credit cards: Placing a fraud alert on your compromised credit cards will require businesses to contact you before issuing any credit when your card is used. It's free to request a fraud alert and they remain in place for one year, unless you add the extended version (which lasts for seven years) after that time period is up. Get in touch with a credit reporting agency to request your fraud alert.
Collect the evidence: Any documentation you have that proves you've been a victim of identity theft (e.g., credit card statements with charges you didn't authorize) should be collected and safely stored in case of an official investigation.
Change your passwords: You may be tempted to only change the password for whichever account was specifically affected, such as your online bank account, but it's a good idea to go ahead and update all of your passwords following the incident.
Contact your utility providers: It's important to inform any utility providers and telephone service providers that you've been a victim of identity theft, just in case the criminal attempts to open another account in your name using the information they've stolen. If the criminal has already opened another account, explain your situation and request the removal of the account immediately.
Replace/repair stolen identity documentation: In the event your driver's license was compromised, don't hesitate to reach out to your local Department of Motor Vehicles (DMV) to report the crime and replace your card. The DMV may place a flag on your license number if it's been stolen. Report stolen passports to your State Department. Requests for replacement Social Security cards can be made online at ssa.gov, but you should notify the Office of the Inspector General if your number has been compromised.
File insurance claims if necessary: You may be eligible to receive reimbursement from financial damages due to identity theft through your cyber liability policy. Reach out to your insurance company soon after the incident to begin the process. Have all the evidence you collected ready.
Perhaps the only upside to the frequency in which cybercrimes occur is the availability of professional resources in Tennessee to help you deal with them. In the event of an incident, don't hesitate to reach out to the appropriate professionals to help you.
Tennessee Identity Theft Statistics
To put the risk of identity theft into better perspective, check out the following stats for identity theft in Tennessee.
Rate of identity theft reports in the United States in 2019, by state (per 100,000 population)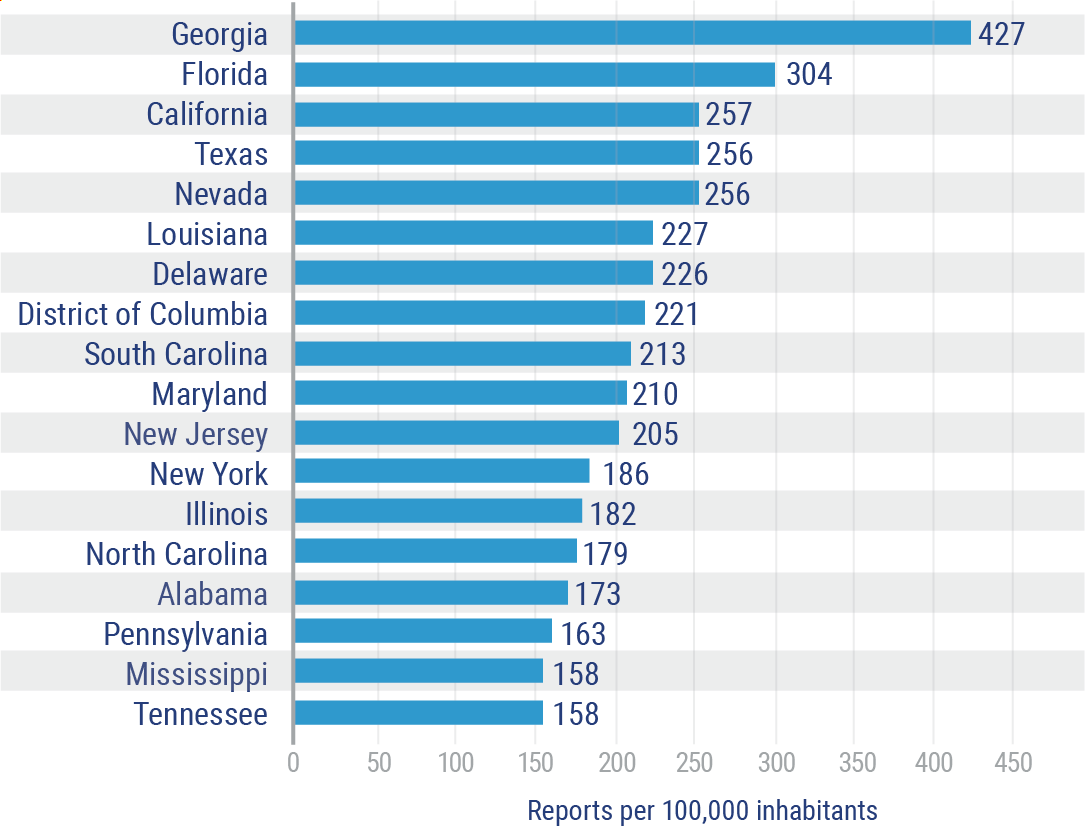 In 2019 alone, Tennessee had a reported identity theft rate of 158 per 100,000 residents. Tennessee was the 18th-highest victim in the nation for identity theft reports that year, trailing a good bit behind the leader, Georgia, with 427 reports per 100,000 residents.
Number of identity theft complaints lodged with the Federal Trade Commission in the United States in 2019, by state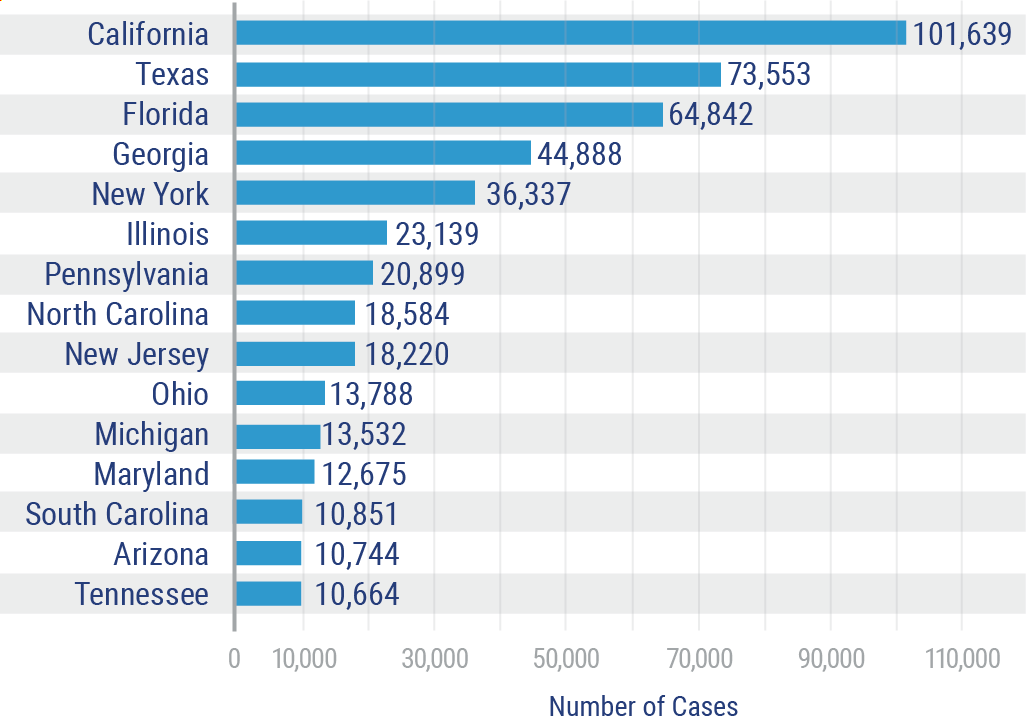 In 2019, Tennessee had 10,664 total reports of identity theft to the FTC. Tennessee was the state with the 15th-highest overall number of reports for the year, at just above a tenth of the leader, California, which had 101,639 total reported incidents.
Financial losses in fraud complaints lodged with the Federal Trade Commission in the United States in 2019, by state (in thousand US dollars)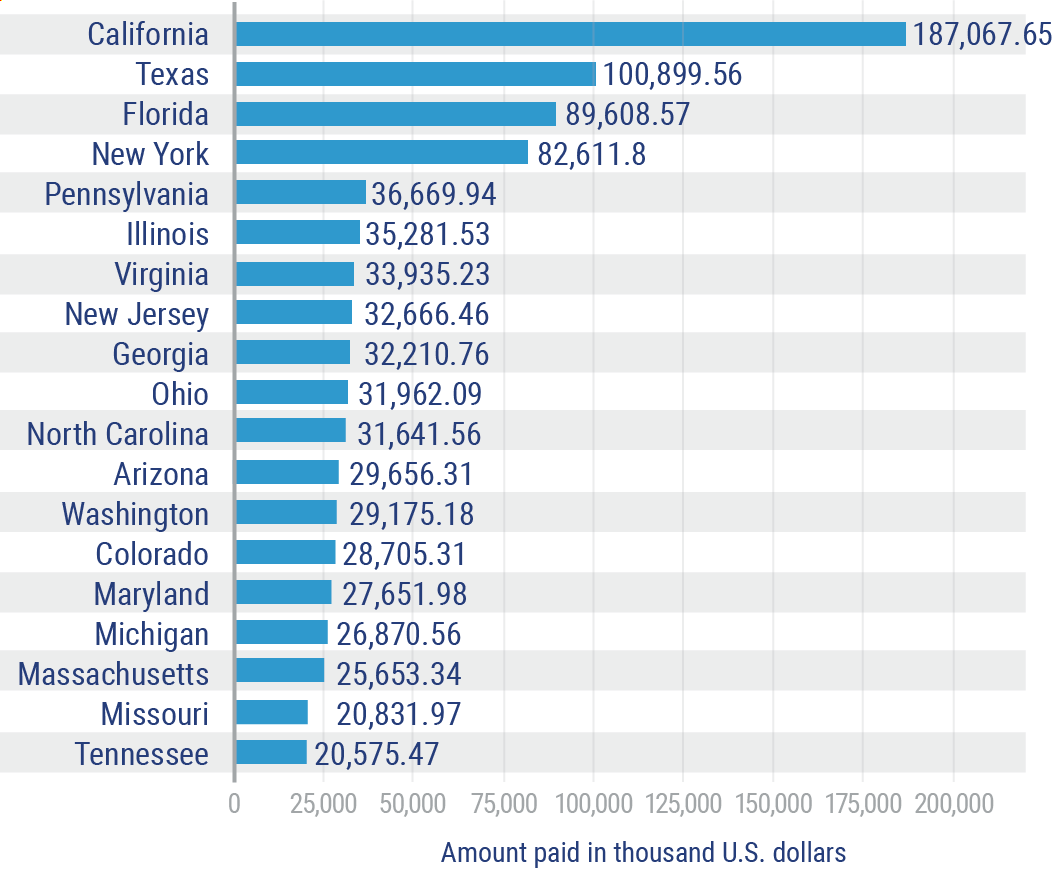 In 2019 alone, the state of Tennessee lost a total of $20,575,470 to identity theft and fraud. Tennessee ranked 19th overall in the US for total losses, while the leader, California, lost a whopping $187.07 million.
With alarming stats like these, it's all the more important to take the potential risk of identity theft seriously. Fortunately a Tennessee independent insurance agent can help you find the right coverage to further protect yourself. More on that in the next section.
Does Insurance Cover Identity Theft in Tennessee?
It sure does. Cyber liability insurance is specifically designed to protect against harm cause by cybercriminals, often including identity theft. Having a policy can help you get reimbursement for lost income, legal expenses, or other personal costs resulting from identity theft. Cyber liability coverage can even save you from bankruptcy.
Cyber liability policies aren't standard across the board, which means you'll need to assemble a policy that works best for your needs. Your Tennessee independent insurance agent can recommend and help you select the coverages that will best protect you against identity theft and any other concerns you may have.
How Much Does Cyber Liability Insurance Cost in Tennessee?
As with any other type of insurance, the cost of your policy will depend on a number of different factors, starting with whether you're purchasing coverage for an individual or a business. If the policy is for an individual or small business, the premium will be much cheaper than if it's for a large corporation. The smaller and less risky the business is to insure, the lower the cost of coverage will be. That being said, it's sometimes possible to predict a basic range estimate.
The average cost of cyber liability insurance across the US currently is $1,500 annually. However, individuals or smaller companies in Tennessee might pay less than $1,000 per year, while large tech giants with all kinds of security needs might pay closer to $10,000 per year or even more. Your Tennessee independent insurance agent can provide you with more specific pricing information for cyber liability policies that meet your needs.
Why Work with a Tennessee Independent Insurance Agent?
In order to get the protection you need and deserve, you'll want to work with a trusted expert. And who could be better for the job than a local agent who shares your area code? Independent insurance agents act as your own personal insurance shoppers, offering you tons more options than one-policy companies. With just one call, they'll hook you up with multiple quotes.
Tennessee independent insurance agents are armed with knowledge on what coverage is needed in your area, and they'll get you set up with just enough of it — not too little, not too much. They'll handle all the heavy lifting so you can rest assured you'll be set up with the right coverage at the right price.
They're not just there at the beginning either. If disaster strikes, your Tennessee agent will be there to help walk you through the claims process and make sure you're getting the benefits you're entitled to. Now that's thinking ahead.
Statista
iii.org
consumer.ftc.gov
ssa.gov
usa.gov
lifelock.com
©

2022

, Consumer Agent Portal, LLC. All rights reserved.