How to Protect Your Tennessee Business from Modern Burglars
May 4, 2022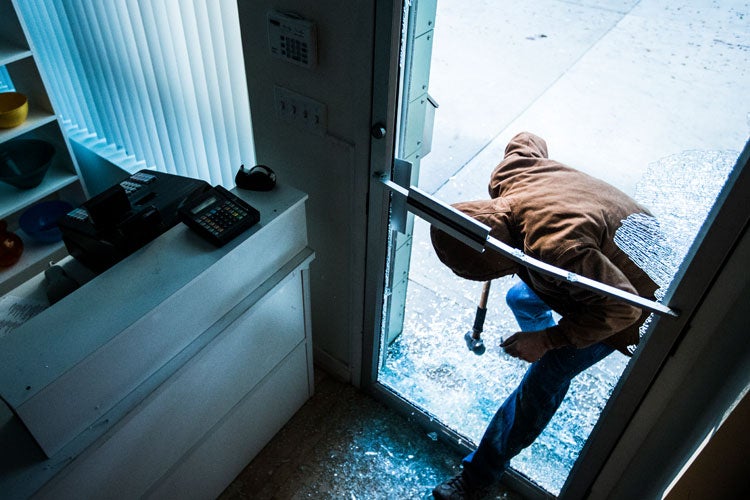 Burglars can target anyone, including your local business. Knowing how to protect your Tennessee business from modern burglars is increasingly relevant as technology continues to evolve. Understanding current criminal tactics can help keep your assets safe for years to come.
A Tennessee independent insurance agent can also help further protect your business with the right business insurance policy. But first, check out our handy guide to protecting your business from modern burglars.
How Common Is Business Burglary in Tennessee?
Knowing how commonly Tennessee businesses are the target of burglary can help you better prepare your company to stay safe.
Reported violent crime rate in the US, by state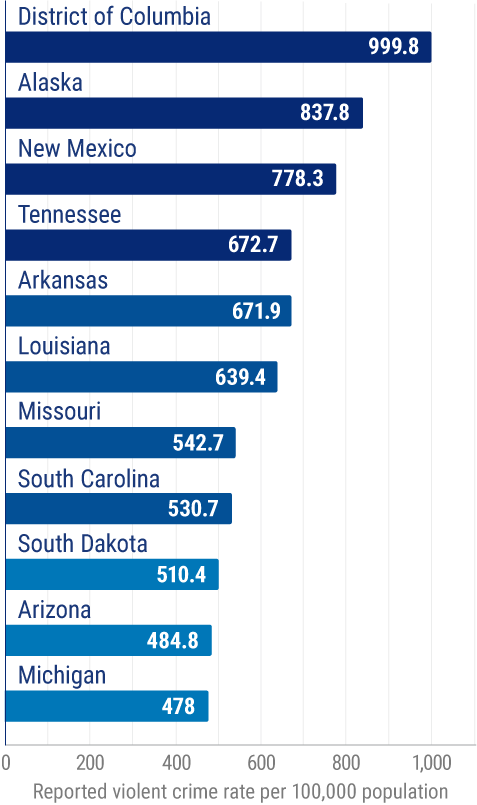 Not only does Tennessee rank high for business burglaries in the US, but it also comes very close to the top of the list for overall violent crime rates in the country. In one recent year, Tennessee reported the third-highest rate of violent crimes by state, at 672.7 per 100,000 residents. Only New Mexico and Alaska ranked higher in terms of states. Washington DC topped the list overall, with 999.8 violent crimes reported per 100,000 residents.
Tennessee's violent crime rate, which includes robberies, aggravated assaults, and robbery, is on the rise overall.
In fact, in one recent year, Tennessee's violent crime rate jumped up by 13%, which was more than double the rate of increase in the entire US.
What Does My Business Insurance Cover If My Business Gets Burglarized?
Your Tennessee business insurance protects your company in several ways if it gets burglarized, including with these coverages:
Commercial property damage: If your business gets burglarized, your commercial property coverage will protect it against damaged or destroyed inventory, etc. Damage to your building at the entry point will also be covered.
Commercial general liability: If the burglary results in a lawsuit filed against your business, your commercial general liability coverage will protect against the costs of attorney, court, and settlement fees.
Business interruption: If the burglary causes extensive damage that forces your business to shut down while repairs take place, business interruption coverage can help replace this lost revenue.
Make sure to work with a Tennessee independent insurance agent to get your business equipped with the right business insurance to protect against burglaries and much more.
What Does Tennessee Commercial Crime Insurance Cover?
Commercial crime insurance is a central component of business insurance. Without commercial crime coverage, your business insurance may not protect your company's equipment, etc. from theft during a robbery. Commercial crime insurance in Tennessee also protects against:
Embezzlement
Inside/employee crimes
Fraud
Counterfeit transactions
Loss of money outside the business premises
Crime insurance is critical to protect a business against all crime. Ask your Tennessee independent insurance agent about adding this coverage to your business insurance, if it's not included already.
The Most Common Commercial Crime Insurance Claims in Tennessee
You might expect burglaries to be the greatest threat to your business. However, insider crime can be just as common, if not more so. Check out a few of the most common commercial crime insurance claims filed by businesses in Tennessee.
Employee theft: Commercial crime insurance provides coverage for employee theft, including stolen inventory or cash from the register
Employee forgery: Commercial crime insurance also covers employees who forge customer checks and sign them in their own name
Employee hacking: Commercial crime insurance can cover businesses if an employee compromises their computer systems by way of hacking
Burglary: Commercial crime insurance is also often used by businesses in Tennessee to help recover lost revenue due to stolen or damaged money and inventory from burglaries
While it's important to protect your Tennessee business from the outside, it's just as critical to ensure it's protected from the inside. Having the right commercial crime insurance coverage is a good start.
How to Help Prevent Business Burglaries in Tennessee
To keep your business safe from burglaries, you can follow these action steps ahead of time to avoid cracked windows, stolen inventory, and more.
View your business from a burglar's perspective: Check for holes in your company's security by walking the building and considering how you'd break in if you were a burglar.
Stay updated with your security system: Burglars are using the ever-evolving technology to their advantage, and your business needs to do the same. Install smart doorbells, motion sensors, camera systems, etc. to keep your business protected the smart way.
Enforce business security protocols: At the end of the night, make sure your crew locks up the business by following a checklist. These lists should note every area of your premises that needs to be secured and locked down before heading home.
Move expensive items away from windows: Though your store may keep pricey and enticing items in the window display during normal hours, it's a useful practice to move these out of sight before closing up. If the items can't be moved, an even better solution is to get blinds or shutters for your windows to deter criminals.
Conduct background checks: Background checks during the application process can help you assemble a reliable team that has your business's best interests at heart.
Don't forget about cyber security: It's critical to also consider your business's security from a cyber standpoint. Keep your technology updated in the areas of credit card machines, computer systems, etc.
Following this checklist can help you prevent burglaries and other crimes before they ever occur, and hopefully you won't even need to file a claim through your business's commercial crime insurance.
What about Tennessee Cyber Theft?
Cyber theft is also increasingly prevalent in Tennessee businesses. Not only that, but businesses are losing more money every year as time goes on to cybercrime.
Amount of monetary damage caused by reported cybercrime according to the Internet Crime Complaint Center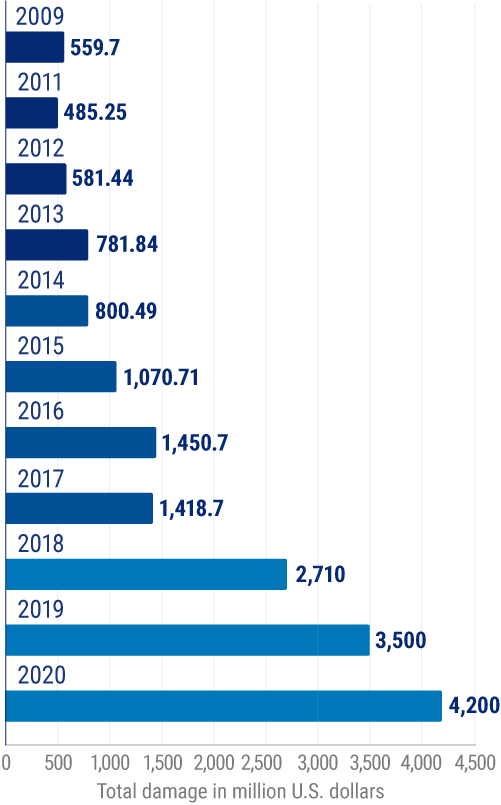 At the beginning of the last decade, cybercrime set businesses in the US back about $485.25 million. But a couple of years ago, this amount jumped exponentially, to $4.2 billion in losses. Since 2017, cybercrime has been spiking at an alarming rate in businesses across the US each year.
It's critical to consider your business's security in terms of its computer systems and who is operating them at all times. Make sure to start by hiring a reliable team you can trust, and enforce training that teaches your crew how to safely navigate your network and complete transactions.
What Does Cyber Theft Insurance Cover?
Fortunately having cyber liability insurance can help protect your company from all types of cybercrimes, including:
Identity theft
Cyber extortion
Reputation damage
Business interruption
Lawsuits
Your business's reputation may take a beating after a cyber breach gets announced to the public, and it might also get sued by victims of credit card fraud, etc. That's why having cyber liability insurance is critical. This coverage can help your business recover lost funds following a data breach or other cyber attack.
Why Choose a Tennessee Independent Insurance Agent?
Tennessee independent insurance agents simplify the process by shopping and comparing insurance quotes for you. Not only that, but they'll also cut the jargon and clarify the fine print so you know exactly what you're getting.
Tennessee independent insurance agents also have access to multiple insurance companies, ultimately finding you the best business insurance coverage, accessibility, and competitive pricing while working for you.