What Does Workers' Compensation Cover in Tennessee?
June 4, 2021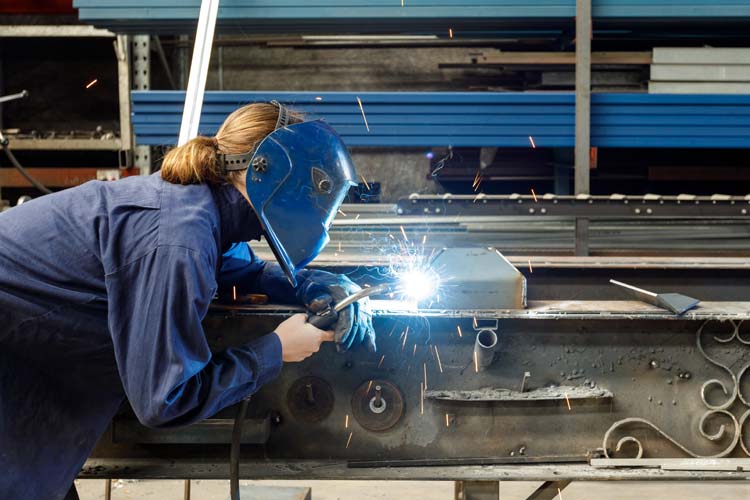 When your business has a great team of hard workers, you want to be sure they're protected. And since workplace incidents are sadly unavoidable, it's crucial to find the right coverage to keep your workers safe. Workers' compensation insurance helps provide essential coverage for employees and business owners alike. A Tennessee independent insurance agent can help you find the right policy for your business. But first, here's a guide to workers' comp insurance.
What Is Workers' Compensation?
Workers' compensation insurance is essentially an agreement between a business and an insurance company in which the insurer agrees to cover financial losses relating to injuries, illnesses, disabilities, and/or deaths of the business's employees. Workers' comp provides coverage for medical costs, lost wages, and lawsuits filed against the business, and also pays out death/disability benefits if necessary.
In Tennessee, coverage is almost always mandatory. While a general rule is that employers in the state with five or more employees must have workers' comp insurance, there are many industries that require businesses to have coverage regardless of the number of workers. Your Tennessee independent insurance agent can help you determine whether your specific business is required to have coverage or not.
What Does Workers' Compensation Cover in Tennessee?
Workers' comp covers the business in the event that its employees get injured or become ill, develop a disability or die due to workplace activities. This extends to accidents that may occur while an employee is driving between jobsites or performing work duties away from the business's home office. Coverage also protects employees from harm sustained while using workplace equipment or materials, such as hazardous chemicals that cause illness.
The more dangerous your business's operations, the more coverage you're likely to need. But here's a quick checklist of the basics covered by workers' comp policies in Tennessee:
Medical care: This includes doctors' office and hospital visits, rehabilitation treatment, medications, diagnosis fees, long-term treatments, and more.
Employee wages: Workers' comp provides reimbursement of hourly or salary wages that an employee misses collecting while out of work due to workplace injury, illness, or disability.
Legal protection: If an injured/ill/disabled employee decides to sue the business following an incident, or if a deceased employee's family sues the business, workers' comp offers protection by covering attorney and court fees, as well as settlements the business may be ordered to pay.
Benefits: In the event of a disability or death of an employee, workers' comp may pay out a lump-sum benefit.
Funeral costs: Should an employee die on the job, workers' comp may provide reimbursement for final arrangements and ceremonies.
Accidents aren't the only cause of injury/illness/disability/death of employees in Tennessee, however. Workers' comp also provides protection against employee injury, etc. due to other covered disasters such as workplace violence, terrorist attacks, and natural disasters.
What Does Workers' Compensation Not Cover in Tennessee?
While workers' comp provides coverage for many worksite perils, it doesn't cover everything. It's important to be familiar with what coverage is included in your policy to prevent the hassle of filing claims that are bound to get denied, or the possibility of an employee becoming disgruntled after being incorrectly promised compensation.
Workers' comp policies in Tennessee do not cover the following:
Employee negligence: In order for a workplace accident to be covered, an employee must have been following proper procedures. Injuries sustained due to carelessness on the employee's part are not covered.
Travel to/from work: While transportation between jobsites is covered, an employee's routine commute between work and home (and vice-versa) is not.
As long as an employee follows along with standard workplace guidelines, in many cases a resulting injury, illness, disability, or death will be covered under workers' compensation in Tennessee.
What Are the Benefits of Workers' Compensation in Tennessee?
Workplace accidents can and do happen, and fairly often at that. Not only are incidents tragic, they're also often extremely costly to both the business and the affected employee(s). Workers' comp coverage is crucial to protect against financial losses resulting from employee incidents. Having the right coverage can also help employees recover and get back to work faster.
Workers' comp coverage protects businesses not only from a legal standpoint, but also from a financial one. Having coverage may be of even higher importance based on the type of operations going on. Obviously, certain occupations carry much higher risks for not only the business, but also for the safety of its employees.
Top ten private industry occupations with the largest number of injuries and illnesses, 2017: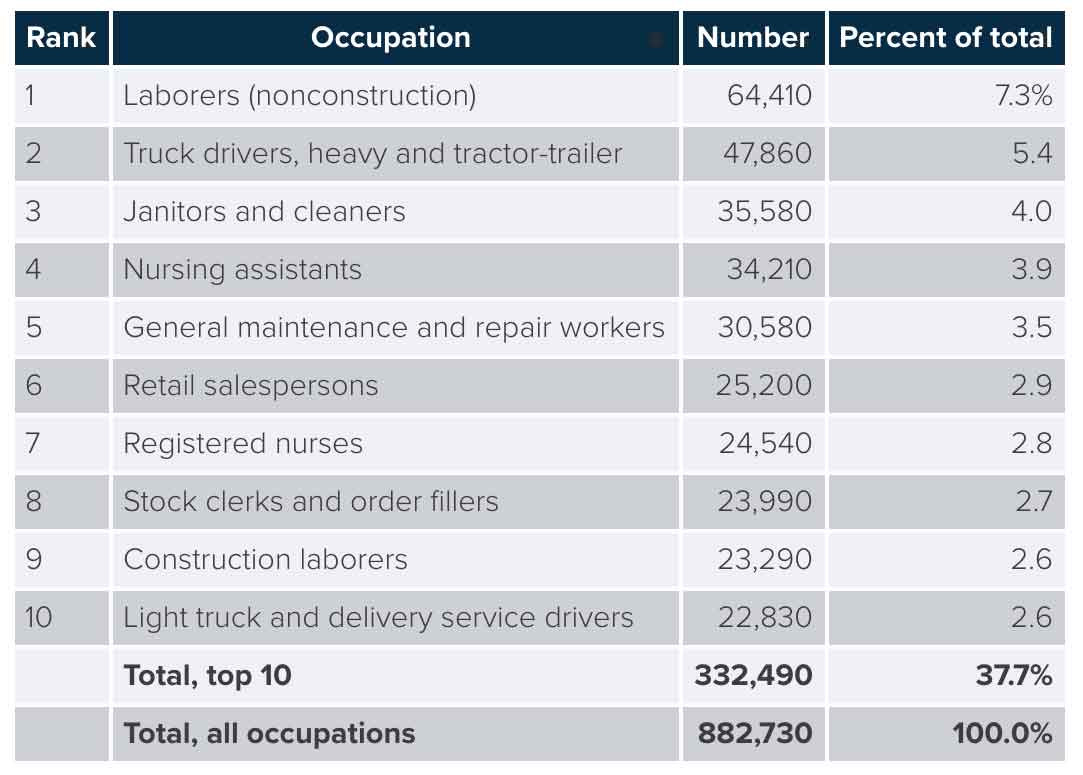 (1) Nonfatal injuries and illnesses involving days off from work for private industries; excludes farms with fewer than 11 employees
Source: US Department of Labor, Bureau of Labor Statistics
As of 2017, laborers, truck drivers, and janitors were the riskiest occupations for injuries and illnesses.
Though accidents can happen anywhere, it's helpful to study the most common incidents resulting in workplace deaths in order to better protect your employees and select the right level of coverage for your business.
Workplace deaths by selected cause, 2016 to 2017: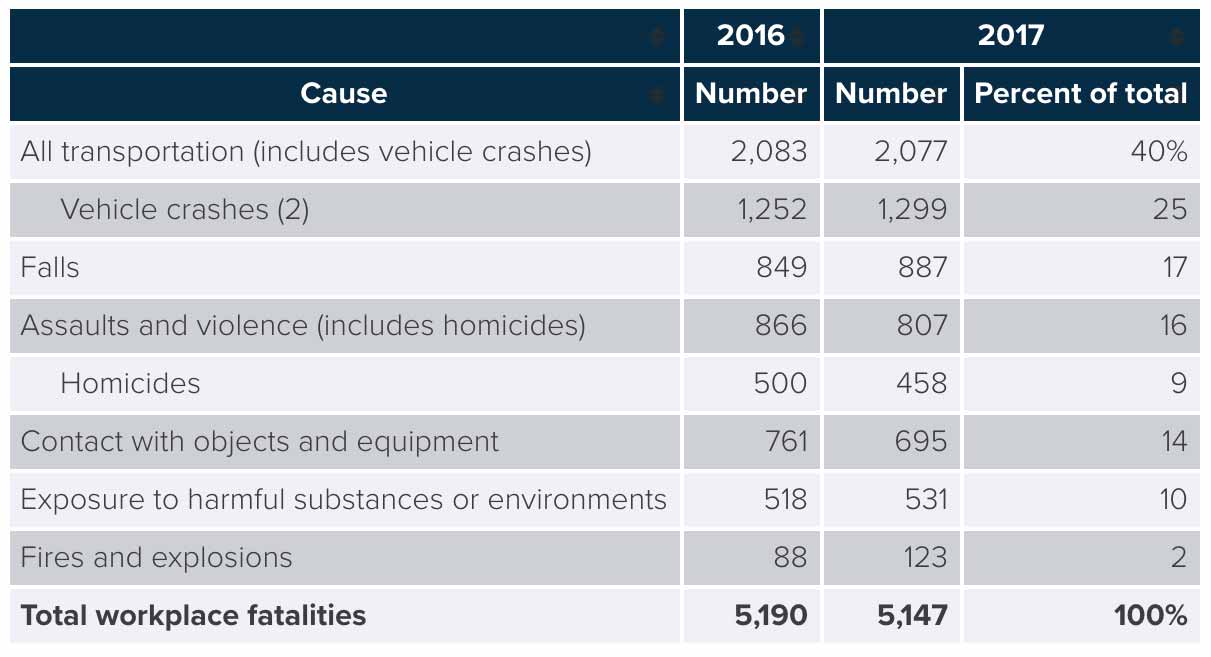 (1) From intentional and unintentional sources. Data in this chart do not add to total workplace fatalities due to the inclusion of miscellaneous injuries in the total.
(2) Roadway incidents involving motorized land vehicles.
Source: US Department of Labor, Bureau of Labor Statistics, Census of Fatal Occupational Injuries
From 2016 to 2017, most workplace-related deaths resulted from transportation and vehicle crashes, followed by falls and assaults/violence.
How Much Does Workers' Compensation Cost in Tennessee?
The cost of your workers' comp coverage will depend on the specific policy's dictated benefits and deductible amount as well as a number of other factors, including:
The type of business you run
The risk level of business operations
The size of your business
The number of employees you have
Tennessee's state regulations
While it's near impossible to offer an average figure, generally the smaller and safer a business is, the cheaper the cost of its workers' comp policy. So a small Tennessee welcome center that sells state maps might pay less than $1,000 per year, while a giant theme park like Dollywood with tons of dangerous attractions might pay more than $100,000 annually. However, taking measures to make your business safer for employees could help lower your premium.
Why Work with a Tennessee Independent Insurance Agent?
In order to get the protection you need and deserve, you'll want to work with a trusted expert. And who could be better for the job than a local agent who shares your area code? Independent insurance agents act as your own personal insurance shoppers, offering you tons more options than one-policy companies. With just one call, they'll hook you up with multiple quotes.
Tennessee independent insurance agents are armed with knowledge on what coverage is needed in your area, and they'll get you set up with just enough of it — not too little, not too much. They'll handle all the heavy lifting so you can rest assured you'll be set up with the right coverage at the right price.
They're not just there at the beginning either. If disaster strikes, your Tennessee agent will be there to help walk you through the claims process and make sure you're getting the benefits you're entitled to. Now that's thinking ahead.
iii.org
disabilitysecrets.com
©

2023

, Consumer Agent Portal, LLC. All rights reserved.