Tennessee Boat Insurance
May 19, 2021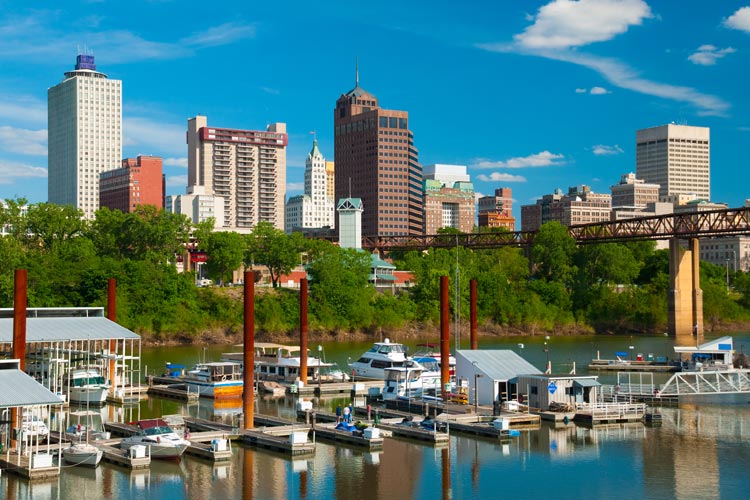 More than 240,000 boats are registered in Tennessee. The state is home to more than 1,300 lakes, so if you're planning on taking your boat out on the water, you'll want to make sure you have the proper boat insurance.
Not all boats or insurance are created equal, which is why it's a good idea to work with a Tennessee independent insurance agent to find a good deal on boat insurance. They'll get you set up with a comprehensive policy that protects your boat on and off the water.
What Is Boat Insurance?
Boat insurance provides protection for your boat or watercraft from a variety of potential risks. Whether it's property damage, theft, or an accident with another boater, boat insurance will help pay for repairs, liability claims, property damage and more.
Typically there are two basic types of boat insurance, agreed value and actual cash value.
Agreed value insurance: Provides coverage based on the value of the boat when the policy is written. Under this policy, there is no depreciation if you experience a total loss of the boat.
Actual cash value: Pays up to the actual cash value of the boat at the time of the total or partial loss. Under this policy, depreciation is factored in.
As an added bonus, boat insurance will typically protect your boat whether it's on water or land.
What Does Boat Insurance Cover in Tennessee?
According to insurance expert Jeffrey Green, boat insurance covers property for collision, comprehensive, theft, vandalism, liability for property damage and injuries to others, medical payments to others, and uninsured boaters.
Some common scenarios include:
Towing if your boat breaks down
Theft or vandalism
Medical bills if you or your passengers are injured
Physical damage from severe weather like hail or lightning
Collisions with other boaters or objects
It doesn't matter whether you have a yacht or a fishing boat, if you find yourself in any of these scenarios and other risks, your boat insurance will help pay for the damage.
Number of watercraft thefts in the United States in 2019, by boat type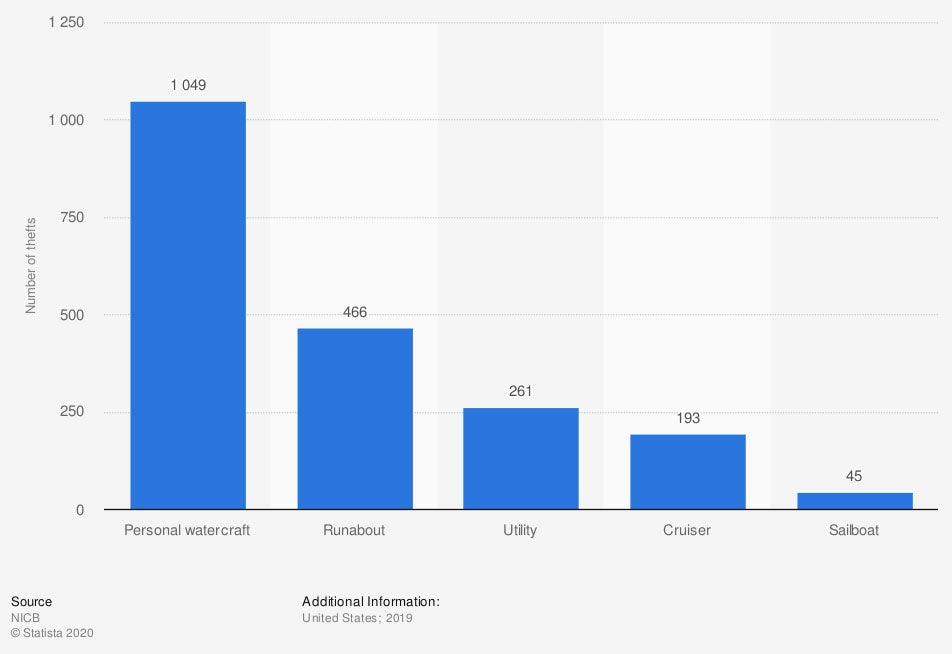 Personal watercraft were the most stolen watercraft in 2019 with 1,049 reported thefts.
What Doesn't Boat Insurance Cover in Tennessee?
Just like a vehicle, a boat requires yearly maintenance. If you don't keep your boat in good shape, you're more likely to run into risks on the water, and it's also more likely that your insurance won't cover a peril.
While every policy differs, according to Green, most boat insurance policies have these exclusions:
General wear and tear
Damage from animals
Mold
Sea life
Improper maintenance
It's possible that any damage that is caused by someone who is operating your boat who is not named on the policy will also not be covered.
How Much Does Boat Insurance Cost?
The cost of boat insurance will depend on a variety of factors about your policy, your location, your boat, and what you intend to do with it.
Typically, agreed value insurance will cost more upfront, while actual cash value will be more affordable. But many other factors are taken into consideration including:
Where you take your boat
Age of the boat
Boat size
Value
Type of boat
How fast it can go
Your driving record, for boats and vehicles
Your Tennessee independent insurance agent can help you determine the best type of coverage you need and if there are any add-ons you should consider.
Do You Have to Have Insurance on a Boat in Tennessee?
Boat insurance is not mandatory in Tennessee. However, some lenders may require insurance.
Even though it's not required to insure a boat, in 2019 there was $1,881,069 in monetary damage from boating incidents in the state. More than 100 people were injured in boating incidents as well.
5 reasons you need boat insurance in Tennessee
In 2019 there were 113 reportable boating incidents.
The most common type of boat involved in an incident was an open motor boat.
Nearly 50% of the incidents were a collision with a vessel.
Rented or borrowed vessels were involved in 15% of incidents.
There were 8 boating-related fatalities in 2019.
Is Boat Insurance Covered under Tennessee Homeowners Insurance?
It is possible that your Tennessee homeowners insurance will provide coverage for your boat, depending on the size and motor. Typically homeowners insurance is limited to coverage of boats with no more than 100 horsepower.
If you have a smaller boat with less than 100 horsepower, you can work with your Tennessee independent insurance agent to request a homeowners rider for coverage. Keep in mind that most homeowners riders only apply to boat usage on inland waterways, lakes, and rivers.
It's important to ask a variety of questions about the type of coverage you'll receive if you opt for a homeowners rider. For most owners, purchasing a separate boat policy is a better option.
How Can a Tennessee Independent Insurance Agent Help?
Boats come in many shapes and sizes. Your watercraft may be used for different purposes than someone else, which is why you need a personalized boat insurance plan.
A Tennessee independent insurance agent is an expert in boat insurance. They are also familiar with the insurance carriers in Tennessee and know the best policy writers based on your personal situation. They'll find you the protection you need to keep your boat safe on water and land.
https://www.marinetitle.com/boat-registration/TN-Tennessee.htm#:~:text=There%20are%20approximately%20245%2C991%20boats,2.1%25%20of%20all%20nationwide%20registrations
https://www.discoverboating.com/ownership/insurance
https://www.tn.gov/content/dam/tn/twra/documents/boating/Tennessee-Boating-Incident-Statistical-Report-2019.pdf
©

2022

, Consumer Agent Portal, LLC. All rights reserved.