How to Protect Your Tennessee Home from Modern Burglars
January 23, 2022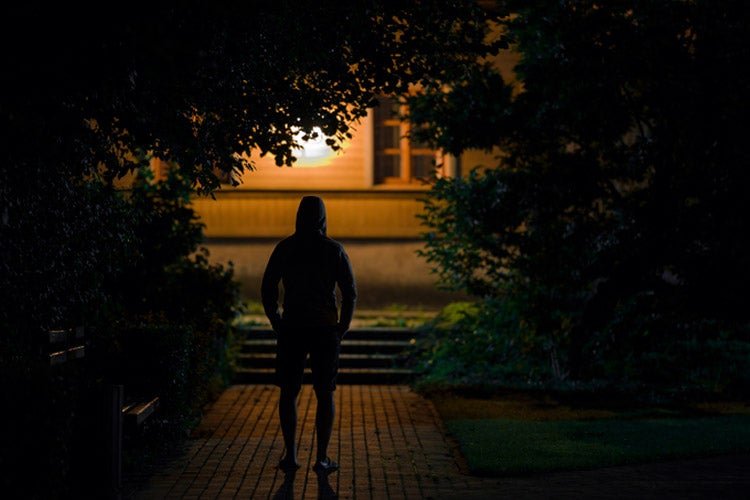 No matter how safe your town is, crime can happen anywhere. That's why it's important to do everything you can to protect yourself, your family, and your property.
It's also critical to work with a Tennessee independent insurance agent to get set up with the right homeowners insurance. When it comes to burglary, the crooks are getting smarter, so we've created a list of tips to help you keep up with crimes of the times.
How Common Is Home Burglary in Tennessee?
Modern day burglars use technology and increasingly savvy techniques that are always evolving to commit their break-ins. Staying ahead of this type of crime is the best way to prevent it. Check out some burglary stats in Tennessee to see just how important that practice really is.
Burglary rate in the US by state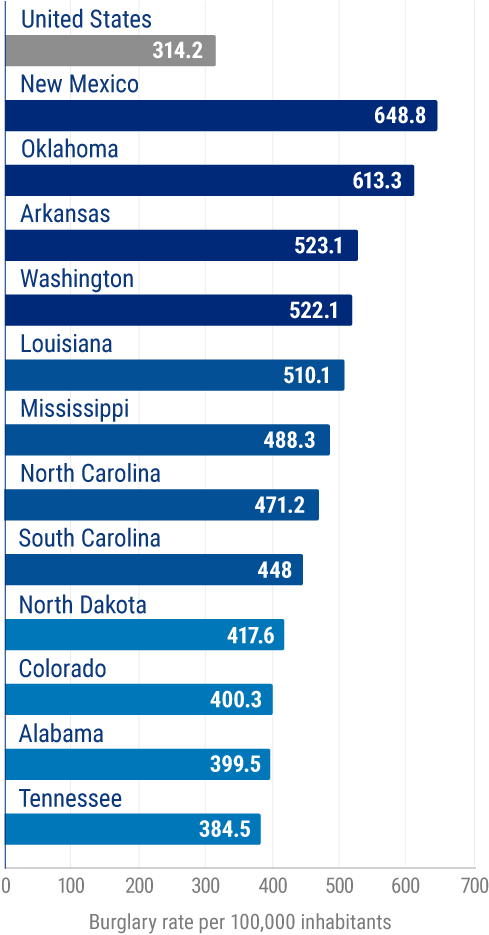 Tennessee's burglary rate is the 12th highest in the nation overall. In fact, burglary crimes in Tennessee are higher than the national average, at 384.5 per 100,000 residents, while the US has a rate of 314.2 per 100,000 residents. Overall crime rates are increasing in Tennessee over time, which is why it's critical to protect your home and your family.
Since Tennessee's burglary rate is so high compared to the rest of the country, it's more important than ever to protect your home with the right homeowners insurance. A Tennessee independent insurance agent can help.
More Burglary Stats
Now that you know how prevalent burglaries are in Tennessee, it's helpful to also understand some facts about burglaries in general.
Tennessee's burglary rate is higher than the national average by 70.3 incidents per 100,000 residents.
Residential burglaries account for about 63% of all burglaries
In the United States, burglaries occur about every 15 seconds
The average burglary results in losses of about $2,661
Only about 13% of burglary cases ever get solved
Knowing your home is much more likely to be robbed than a business can help give you the extra incentive you need to get it protected against these costly crimes.
How Does My Homeowners Insurance Help Protect Me If My Home Gets Burglarized?
Fortunately it's easy enough to file a claim through your homeowners insurance if your home does get burglarized.
How to file a homeowners insurance claim after a burglary:
Contact the police: Before you start the process of filing a home insurance claim, you'll want to report the crime to the police. The earlier you report the incident, hopefully the sooner the authorities can solve your case.
Take note of all damaged, destroyed, or missing property: You'll need a list of damaged, stolen, or destroyed property when making your claim. You can easily document this by taking photos on your phone.
Make important repairs: If you have a shattered window or busted-in door, it's okay to go ahead and make these repairs before you hear back from insurance. Just make sure to save your receipts to file with them later.
Contact your independent insurance agent: Your Tennessee independent insurance agent can reach out to your home insurance company and file your claim for you. They'll also keep you updated along the way with an estimated reimbursement window.
Your Tennessee independent insurance agent can also inform you of any documentation necessary to file a claim in the first place.
When and How Does Homeowners Insurance Cover Theft?
Your Tennessee homeowners insurance protects you against burglaries and their resulting damage in several ways, including through its:
Dwelling protection: Your home insurance's dwelling coverage will reimburse you for repairs necessary to the exterior or foundation of your home if it was damaged during a burglary.
Contents protection: Your home insurance's contents coverage will reimburse you for repair or replacement of damaged or stolen items after a burglary.
Additional living expenses protection: Your home insurance's additional living expenses coverage will even pay for you to stay at a hotel if necessary after a burglary, if your home needs extensive repairs.
Insurance expert Paul Martin said that burglary coverage is included by default in your Tennessee home insurance policy. Theft and property damage are two of the main covered disasters in your home insurance.
What Happens If Someone Was Injured during the Burglary?
Unfortunately home insurance wouldn't cover yours or your family's injuries if they happened during a burglary, you'd have to go through your health insurance. However, let's say you had to practice self-defense when the intruder came into your home, and they got injured. You'd actually be protected through your home insurance for this, too.
Martin explained that though home insurance does exclude intentional harm to others from its coverage, there's actually an exception to this if the homeowner was "protecting lives and/or property." So if you had to injure the burglar to protect your family or your home, you'd be protected against a resulting lawsuit from the criminal. But they'd have to have some nerve to sue you, in the first place.
Top Tips to Help Prevent Home Burglaries in Tennessee
There are a few easy steps you can take to help protect your home from burglaries:
Knowing the two main types of burglaries: Burglaries can be premeditated (i.e., planned) or they can be spontaneous. Burglars who choose the premeditated route will plan their crime for months while they observe you and your routines and the holes in your property's security. Spontaneous burglaries, on the other hand, can happen out of the blue for seemingly no reason.
Getting into the burglar mindset: The best way to protect your home from burglars is to consider it from the perspective of a burglar. Explore your property and look for ways you might break in if you wanted to. Then take measures to patch these holes in your home's security.
Preparing modern solutions: Modern burglars are using technology more than ever to commit their crimes. This means it's more important than ever for you to equip your home with technology designed to keep it safe, like smart doorbells and cameras, motion sensors, alarms, lights, etc.
Being smart about what you share online: To be extra-safe, never announce long trips on your social media before they happen. If any of your "friends" have ulterior motives, they may use this information to their advantage and break into your house when they know you'll be out of town.
Hiding your valuables from view: Keeping your valuables, like expensive decor, electronics, etc., away from your windows is a good way to ensure that burglars won't be as interested in your home. If you must store these objects in plain sight, keep your drapes closed when you're away from home.
Not having a dog as your main security measure: Contrary to popular belief, dogs don't often succeed in scaring burglars away. While a dog's bark can be a good alert to notify you of an intruder while you're home, it doesn't necessarily cause someone to change their mind about robbing you if you're away.
Thirty-five percent of inmates serving time for residential burglaries said they would still have committed the crime with a dog present.
Even after taking these steps to protect your home from burglaries, it's still important to be equipped with Tennessee home insurance.
What about Cyber Theft?
With the increasing use of technology comes an increase in the prevalence of cyber theft, as well. From phone call scams to phishing emails, here are some of the most common types of cybercrimes and what you can do about them.
Top Reported Cyber Crimes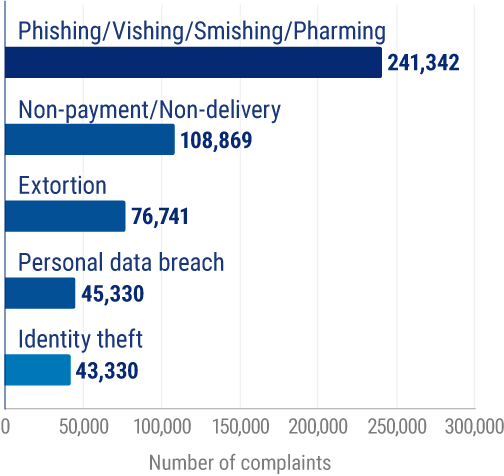 Phishing and related scams affected by far the largest number of cyber theft victims in one recent year, at a total of 241,342. Non-payment/non-delivery crimes were second-highest, followed by extortion, personal data breaches, and identity theft cyber crimes.
You can protect yourself against cyber theft by following these simple tips:
Get cyber insurance: This type of coverage is designed to help protect you from losses relating to various types of cybercrime, including those listed on the graph above.
Use strong passwords: The more unique and difficult-to-guess your passwords are, the harder time cybercriminals will have trying to steal your personal information, money, etc.
Never click on random links: As shown above, phishing is by far the most commonly reported cybercrime of late. To avoid this disaster, make sure to never click on links from any sources you don't recognize, such as an email address not in your contacts, or even something questionable that appears to have been sent by a friend or coworker.
A Tennessee independent insurance agent can help you get equipped with cyber insurance to help protect you against identity theft and other types of cyber burglary.
Why Choose a Tennessee Independent Insurance Agent?
Tennessee independent insurance agents simplify the process by shopping and comparing insurance quotes for you. Not only that, but they'll also cut the jargon and clarify the fine print so you know exactly what you're getting.
Tennessee independent insurance agents also have access to multiple insurance companies, ultimately finding you the best home insurance coverage, accessibility, and competitive pricing while working for you.
https://www.statista.com/statistics/232580/burglary-rate-in-the-us-by-state/
https://24-7-home-security.com/clever-tricks-used-burglars-can-stop/
https://ucr.fbi.gov/crime-in-the-u.s/2019/crime-in-the-u.s.-2019/topic-pages/burglary
https://www.pewresearch.org/fact-tank/2017/03/01/most-violent-and-property-crimes-in-the-u-s-go-unsolved/
https://www.statista.com/statistics/184083/commonly-reported-types-of-cyber-crime/
©

2023

, Consumer Agent Portal, LLC. All rights reserved.