In Tennessee, Who's Responsible If Renters Totaled My Boat?
January 13, 2022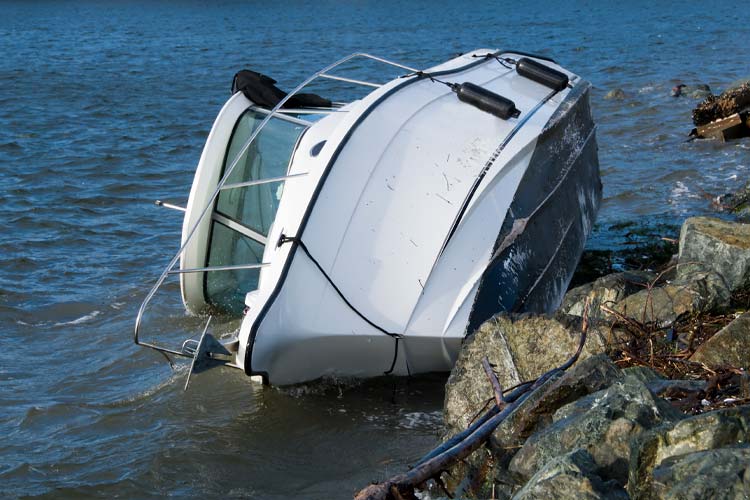 Renting your Tennessee home out to vacation-goers or locals just looking for a weekend away can be exciting, but it can also end up costing you. Unfortunately sometimes your guests damage your property more than they respect it. So who's responsible if renters total your boat?
Fortunately a Tennessee independent insurance agent can help you get protected by the right watercraft insurance in case this or another disaster happens. But first, here's a breakdown of who'd be responsible in this scenario and whose policy would cover the damages.
Who's Responsible If Renters Totaled My Boat?
Even if you could argue that it was the fault of the renters for totaling your boat under their supervision, unfortunately you'd probably still be responsible for covering its replacement costs yourself. That's why it's so important to have the proper Tennessee watercraft insurance to protect your vessel, especially if you'll be letting renters use it. A Tennessee independent insurance agent can help you get set up with the right coverage.
Who Pays for the Damage to My Boat?
Sadly you're probably going to have to cover the damages through your Tennessee watercraft insurance policy, despite it not being your fault the boat got totaled. Fortunately your watercraft insurance would cover the costs of replacing or repairing your boat up to its current value minus depreciation, depending on your specific policy. Be sure to review your watercraft insurance's terms with the help of your Tennessee independent insurance agent.
How Often Do Boats Crash in Tennessee?
Recreational boating accidents actually happen fairly often nationwide. Check out these recent stats for recreational boating accidents across the country.
Number of Recreational Boating Accidents in the US
The number of recreational boating accidents has just begun rising again, after a noticeable decline for several years in the middle of the observed period. At the beginning of the period, there were a reported 4,604 recreational boating accidents in one year. In a recent year, this number came pretty close to matching it, at 5,265 recreational boating accidents reported, up from 4,168 the previous year.
Knowing that there are thousands of recreational boating accidents every year, and that the numbers are once again on the rise, is all the more incentive to get yourself protected with the coverage you need through a Tennessee personal watercraft policy.
If I Run an Airbnb, Does Airbnb Provide Any Financial Protection?
Airbnb does offer their own protection, called host damage protection. This coverage provides up to $1 million in reimbursement for damage to a host's property caused by renters. Airbnb's coverage can protect you in the following ways:
Repair or replacement costs of your totaled boat, or other property damaged by renters
Cleaning costs due to an accident with your boat, or other incident on your property caused by renters
Lost income due to canceled bookings because of your totaled boat or other property damage caused by renters
Luckily for Airbnb hosts, the company offers generous coverage for your property with a high limit. If you don't rent your property through Airbnb, it's still important to ensure that you're equipped with the right policy to protect you.
Does Tennessee Renters Insurance Cover My Property If I Rent It Out?
Depending on your specific policy, your Tennessee renters insurance might include coverage for short-term rentals. If you occasionally rent your property to paying third parties as a vacation home, your renters insurance might cover you against property damage caused by your guests. But you'll want to review your renters insurance policy with the help of your Tennessee independent insurance agent to be safe.
If It Was a Serious Accident and a Renter Got Injured, Would This Change the Responsibility?
Unfortunately once again, you as the boat's owner could still be held liable for your renter's injuries while using your watercraft, even if you don't end up being found responsible in court. The liability coverage portion of your Tennessee watercraft insurance would protect you against lawsuits filed against you by renters for injuries on your boat by reimbursing for legal fees. The medical payments section of your coverage can also protect against injuries to your or your passengers in the case of a boating accident.
Why Choose a Tennessee Independent Insurance Agent?
It's simple. Tennessee independent insurance agents simplify the process by shopping and comparing insurance quotes for you. Not only that, but they'll also cut the jargon and clarify the fine print so you know exactly what you're getting.
Tennessee independent insurance agents also have access to multiple insurance companies, ultimately finding you the best watercraft insurance coverage, accessibility, and competitive pricing while working for you.
statista.com/statistics/240630/recreational-boating-accidents-in-the-us/
airbnb.com/help/article/279/host-damage-protection
iii.org/article/boat-insurance-and-safety
©

2023

, Consumer Agent Portal, LLC. All rights reserved.