What Is the Average Cost of Farm Insurance in Tennessee?
July 30, 2021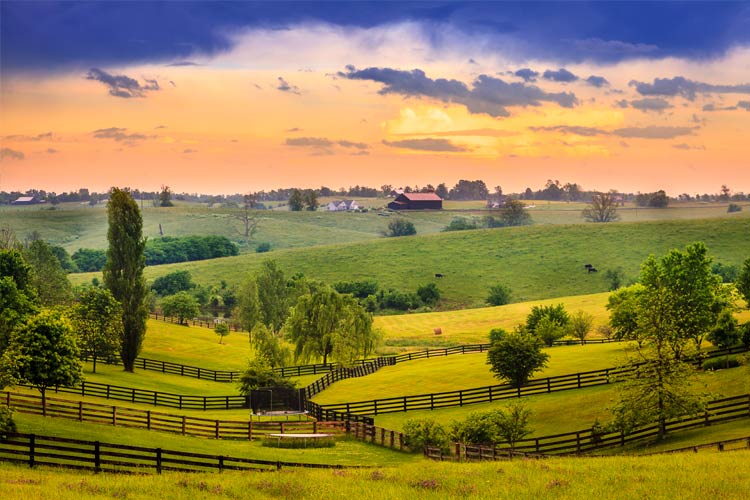 Whether you're using your piece of the American dream to run a full-fledged operation or a small hobby farm, coverage matters. There are numerous policy options when it comes to protecting your assets, and knowing what's necessary can be tricky. Fortunately, Tennessee business insurance will help cover your farm against all the unknowns.
A Tennessee independent insurance agent has access to multiple markets so you're getting the best policy that won't break the bank. They'll even review and compare your coverage for free. Connect with a local expert to get started in minutes.
What Is the Average Cost of Farm Insurance in Tennessee?
The volume of insured pasture, range, and forage in the US by acres is 140,210. The premiums to insure those acres will vary and depend on many moving parts. Your Tennesee farm insurance costs will be specific to your risk exposures.
What impacts your farm insurance premiums:
Value of land
How many acres you have
Past losses
How the farmland is used
If you have livestock
If you have equipment or machinery
Total US farm income from livestock and products (in 1,000 US dollars)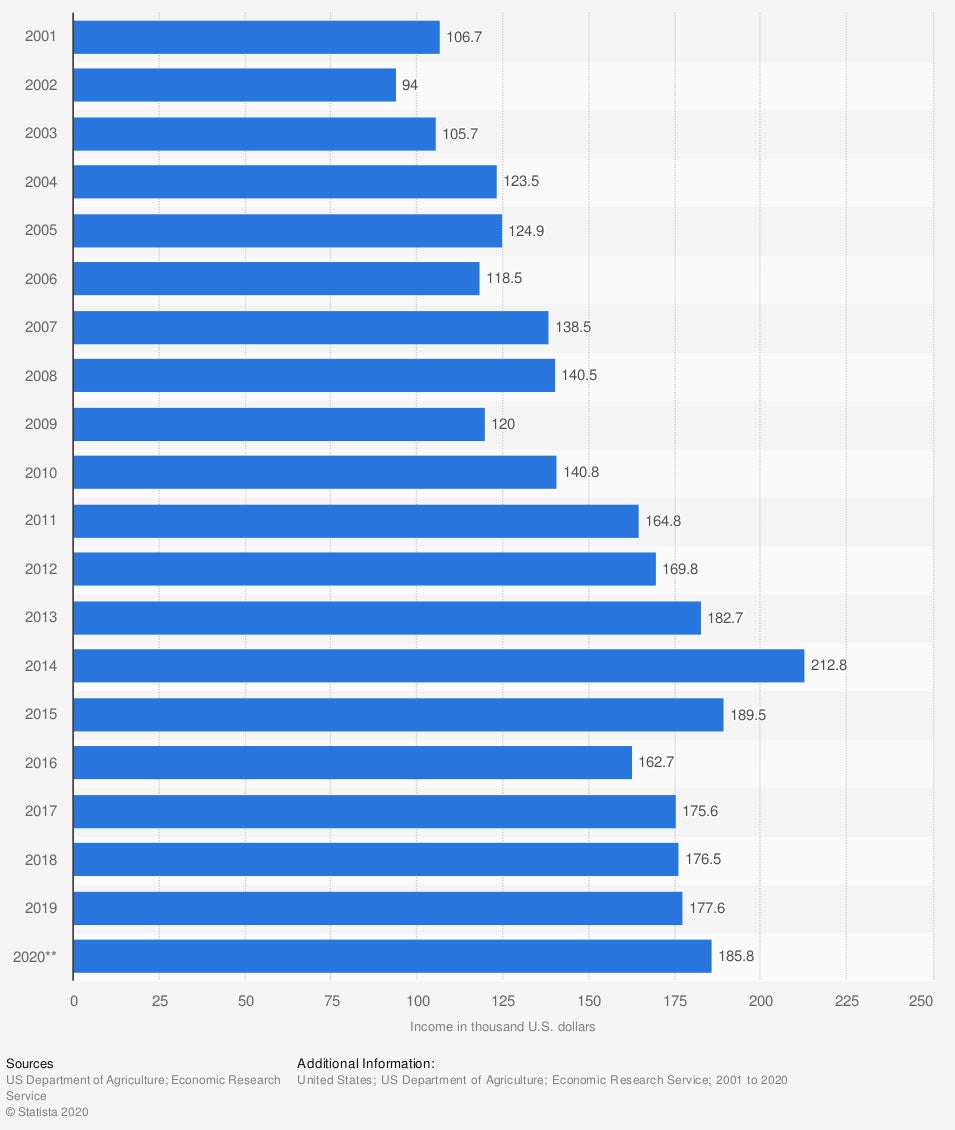 If you're using the products that your farm produces to make an income, coverage is necessary. Product insurance can increase your insurance expense, but it's worth it.
What Are Some Factors That Will Influence My Rates in Tennessee?
Every Tennessee farm will have a unique spin on operations and how they do things. How you run your farm will determine the type of coverage you need and what your premiums are.
What will affect your farm insurance costs:
Your herd's specifics: You'll need to cover the risks that are specific to your herd. Horses will have different needs from cattle and so on.
What your livestock is worth: This is the value you can get in the marketplace for your livestock. You are covering the risk of the replacement cost if something happened to them.
If you have crops: If your farm deals with planting and producing crops, you'll need separate crop insurance.
Other structures and buildings: If you have a home, pole barns, and more on your property, you'll need coverage for the buildings themselves.
What preemptive protection you have in place: Carriers will want to know how you are proactive, such as if you are accounting for the risk of predators by having fencing and more.
How Do Tennessee Farm Premiums Compare to the Other States?
Each state may be known for a specific type of farming operation, harvest, or product. Since each farm is different no matter where you live, your premiums will vary. The difference in insurance costs for a Tennessee farm vs. a Kentucky farm can't really be determined, because every farm will have individualized pricing.
Will My Location Impact My Rates in Tennessee?
In Tennessee, the value of private crop-hail insurance coverage is $58,500,000. If you own a farm, you have to account for the risks your location brings. Some parts of town may get more hail, or have a higher crime rate than others, all things that can impact your insurance costs.
Reported property crime rate in the US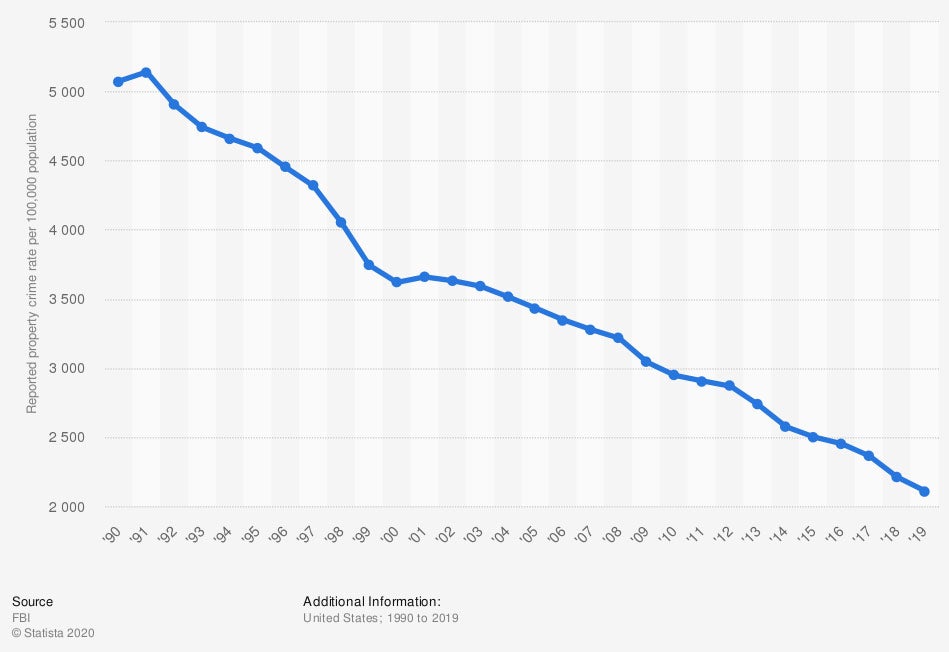 The exposure of weather-related claims, property losses, and more are a reality for every farmer. For coverage that helps you stay afloat during tough times, review your policies with an adviser.
How to Save on Farm Insurance Costs in Tennessee
The best way to save on farm insurance in Tennessee is to be proactive. There are some things you can do to get budget-friendly rates for your operation. Check out the steps to take for the lowest farm insurance premiums:
Focus on safety: The more safety precautions your farm has in place, the less risk you're transferring to the carrier and the lower your premiums are.
Handle the small stuff: If you have a loss that's not much bigger than your deductible, then it's best to not use your policy as a maintenance plan. Instead, only file claims that you really need to, and this will help keep your costs low.
Shop around: The best way to ensure that you're getting a competitive price on farm insurance is by comparing it with several carriers. Fortunately, an agent can do this for free.
Cost of Additional Farm Insurance Coverages in Tennessee
A Tennessee farm has many moving parts, and additional coverage is often needed. Each policy limit will have a separate cost that's based on your farm's characteristics. The rates can only be determined when you get quotes for your farm's specifics.
Coverage options your farm should consider:
Commercial property: This policy covers your farm structures and pole barns, and can even insure your equipment.
Accidents: This can be anything from coverage for electrocution, fire, or smoke, to loading and unloading of livestock.
Natural disasters: Volcanic eruptions and sinkholes are covered. Typically floods and earthquakes are covered under separate policies.
Weather events: Lightning, wind, hail, tornadoes, and more.
Crimes and civil unrest: This is for theft and vandalism of livestock.
How a Tennessee Independent Insurance Agent Can Help You
Your farm insurance premiums can be a large expense if you don't know where to look. With all the carriers and coverage options out on the market, it can be confusing to pick the right policies for your farm. Instead of going it alone, consider using a licensed professional for free.
A Tennessee independent insurance agent will review and compare your coverage through their network of highly rated carriers. This means you'll be walking away with a policy that fits your farm at the most competitive pricing. Connect with a local expert on trustedchoice.com to start saving today.
https://www.statista.com/statistics/196415/us-farm-income-from-livestock-and-products-since-2001/
https://www.statista.com/statistics/191237/reported-property-crime-rate-in-the-us-since-1990/
http://www.city-data.com/city/Tennessee.html
©

2022

, Consumer Agent Portal, LLC. All rights reserved.