Q&A - Does Tennessee Homeowners Insurance Cover Roof Damage after a Storm?
April 25, 2021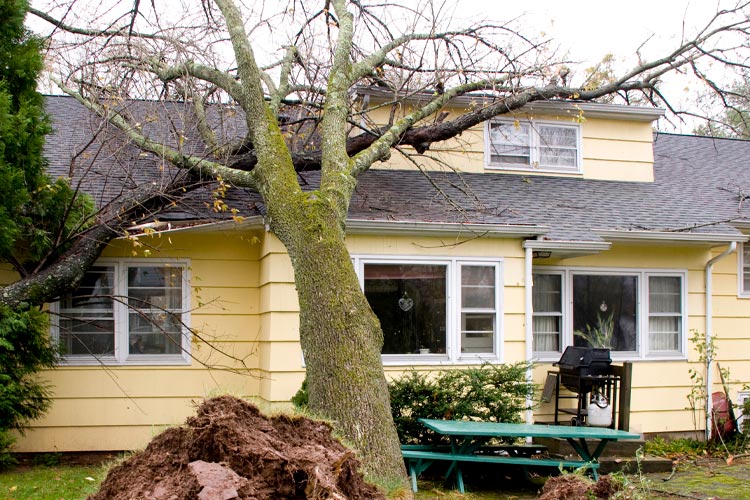 Does Homeowners Insurance Cover Roof Damage from a Storm in Tennessee?
Your Tennessee homeowners policy will cover storm damage to your roof in most cases. Some exclusions can apply depending on the age and condition of your roof. Carriers usually only offer full replacement cost when your roof is 15 years old or newer. After a certain period of time, your roof can switch to actual cash value and insurance may only pay to partially replace or repair it.
Does Home Insurance Cover Hail Damage to a Roof in Tennessee?
Hail damage to a homeowners roof is one of the most reported claims for roof damage. Hail can happen often. If the damage is extensive enough, it could cause a total loss to your roof. Homeowners insurance will have protection against hail damage to your roof and will pay up to your policy limit minus the deductible.
Does Home Insurance Cover Wind Damage to a Roof in Tennessee?
If you have wind damage to your home in Tennessee, your homeowners insurance policy will respond. When your roof gets blown away, causing damage or total loss, this is typically insured. One area you'll want to check before a claim occurs is how your roof is insured. Some carriers only offer actual cash value instead of full replacement cost, which could leave you to cover some costs out of pocket.
Economic damage from tornadoes in the US (in million US dollars)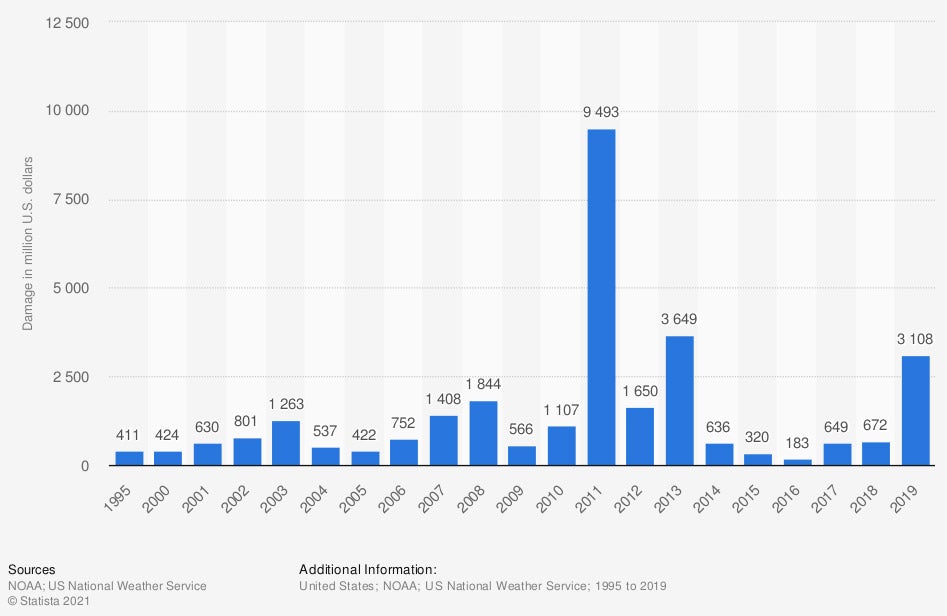 Tornadoes are a common occurrence in a number of states, and Tennessee is one of them. High wind can turn into a tornado and cause serious damage that would be covered under most home policies.
Does Home Insurance Cover Flood Damage to a Roof in Tennessee?
Tennessee homeowners insurance will have coverage for many natural disasters. Most storms would fall under a covered loss with your home policy and have protection against damage or injury. Unfortunately, flooding is excluded from coverage under your primary insurance. In order to have adequate protection, you'd have to obtain a FEMA-approved flood insurance policy for any flood damage that may occur to your roof.
How to Check Your Roof for Damage in Tennessee
Damage to your roof in Tennessee can be hard to see. If you're not a trained professional, it can be dangerous to climb up and check for roof damage. The best way to know if your roof has damage that needs to be repaired or replaced is by hiring a roofing contractor to assess the damage. They can safely check out the status of the roof and take pictures to give to the insurance companies.
Leading roofing contractors in the US (in million US dollars of revenue)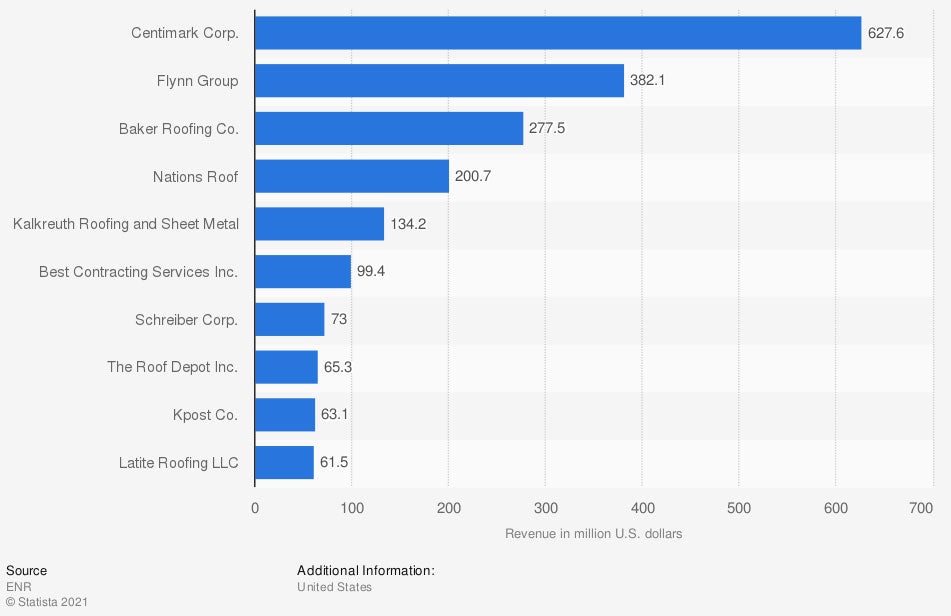 You can choose whichever roofer you want to review and ultimately repair your roof if there is damage. A trusted adviser may have some recommendations for roofing companies that will do a complimentary damage check as well.
How Much Does Home Insurance Pay Out for Roof Damage?
Every homeowners policy will be specific to the carrier and the policyholder. There are several coverage options when it comes to insuring your home. Roof damage is typically paid out in actual cash value or replacement cost, minus the deductible. Take a look at the difference below:
Actual cash value: This is the amount the insurance company pays out for what the roof is worth in its current state.
Replacement cost: This is the amount the insurance company pays out for the full replacement cost of the roof to like kind, and quality.
How a Tennessee Independent Insurance Agent Can Help You
Your Tennessee homeowners insurance policy has several coverage options. When it comes to insuring one of your largest assets, you can't be too careful. To make sure you're obtaining proper protection from all angles, consult with a licensed professional.
A Tennessee independent insurance agent can help you find a policy for an affordable price. They review and compare coverage options so that you're getting the best deal in town. Connect with a local expert on TrustedChoice to get started in minutes.
Graphic #1: https://www.statista.com/statistics/756436/leading-contractors-in-roofing-industry-by-revenue-us/
Graphic #2: https://www.statista.com/statistics/237409/economic-damage-caused-by-tornadoes-in-us/
http://www.city-data.com/city/Tennessee.html
©

2022

, Consumer Agent Portal, LLC. All rights reserved.